June 29
.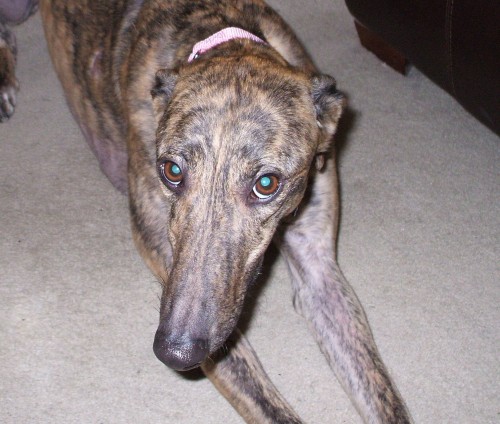 I've mentioned our first Greyhound before, but never told her full story…how she came to us and how we lost her.  Here is Paloma's story:
How I Came To Know About Greyhounds
You may not know it, but I was never a "dog" person.  I liked cats (and still do).  When my daughter left for college, I was selling PartyLite to help with college expenses.  A woman contacted me who wanted to do a fundraiser for her Greyhound rescue group (Allies for Greyhounds of West Michigan).  I set a time to meet her to explain our fundraising program and drop off materials.  I knew that she had four Greyhounds, and I was DREADING going to her home.  Four big dogs!  I arrived at her home and went to the front door.  Standing on the other side of the storm door was a Greyhound who just looked at me.  No barking, just looking.  The woman came to the door and let me in.  She said, "You'll have to excuse Anita, she's doesn't have her manners yet."  The other three hounds didn't even get up when I came in.  Anita was curious about me, but no jumping, barking, licking…she just followed me around.  I told the lady about our fundraising program and then spent the next hour asking questions about Greyhounds.  I was VERY intrigued.  I told my husband about these unusual dogs and eventually we went to a Meet 'n Greet so he could see them.  When we got in the car after meeting some of the hounds, he said, "I don't know.  I think they're too meek."  I told him, "I'm not interested in getting a dog, I'm only interested in getting a Greyhound."  My husband, being a smart man and knowing that a window of opportunity was closing said, "Okay, we can get a Greyhound."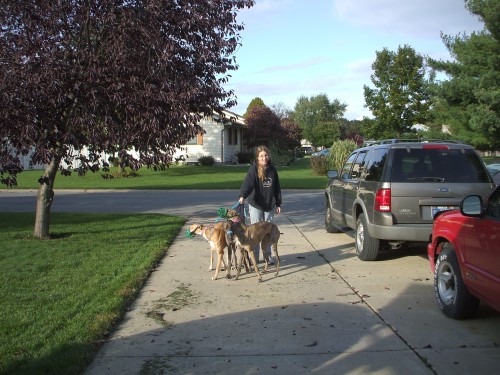 Paloma Comes Into Our Lives
My husband was interested in a brindle male.  I didn't want a male.  So we picked a couple dogs from our group's website and a young woman brought them out, along with Paloma who she was fostering.  There was no magical moment…nothing.  I asked the young woman who she thought we should take and she said, "I've always thought Paloma would be the one for you."  It sounded like a good pick…brindle for my husband and female for me.  A fun little side note…The young woman who brought the dogs out often fosters "hard cases" otherwise know as dogs who need a little extra work.
Paloma, Our First Greyhound
Paloma was not the calm Greyhound that I anticipated.  Paloma was a big, wild girl, and my husband and I fell desperately in love with her.  Paloma was not cat-friendly.  We had to work with her A LOT on that.  Paloma was a jumper, so coming into our home was tricky.  If Paloma got to you, it was like getting hit in the chest with a sledgehammer.   Paloma would use our family room as a race track…she'd use the back of the couch as a spring board.  Other than those few eccentricities, Paloma was a sweet, loving, joyful girl.  She was a good girl too.  She really wanted to please, she just got a little excited some times.  Her absolute favorite activity was chasing a laser light.  Every evening my husband would take her into the backyard and she would run laps, chasing that crazy light.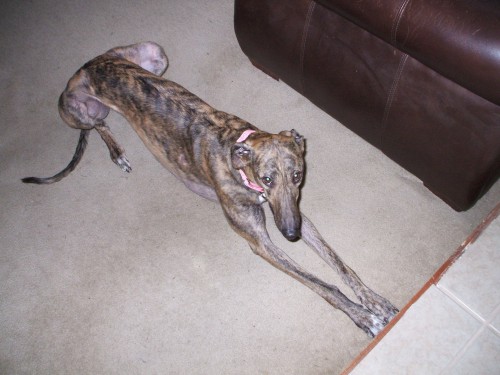 Tragedy
One evening, after coming inside from chasing the laser light, my husband called for me to come into the family room.  He was standing beside Paloma and when he took his hand off her side her right leg folded forward.  We first thought that she had broken a leg or snapped a tendon.  We got her down and gently felt her leg.  We couldn't feel anything wrong and she didn't seem to be in pain.  We took her to the Animal Emergency Hospital and after doing some tests, the vet suspected it was FCE (Fibrocartilginous emboli); simply put, a blockage in the spinal cord that causes paralysis.  When we consulted with our vet in the morning, the prognosis didn't look good.  In agony, we made the decision to end her life.  Since then, I've read articles about misdiagnosed FCE and full recovery FCE.  I've also read stories of dogs that never recovered.  For awhile, my husband blamed himself for allowing her to run and chase the laser light.  Did we make the right decision?  I'll never know.  We did the best we could at the time, but I still feel the heavy weight of that decision.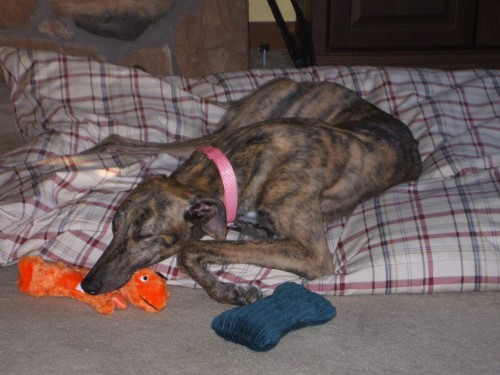 Paloma's Legacy
As horrible as losing Paloma was, our empty, dog-less home was terrible.  Paloma had left a huge hole in our hearts and we decided it would take two Greyhounds to fill it.  Enter, Freedom and Casper.  Another interesting side note…my husband picked Freedom because her dam/mother was Paloma's "grandmother."  I picked Casper because he was being fostered by the couple (now dear friends of ours) who had Paloma's sister.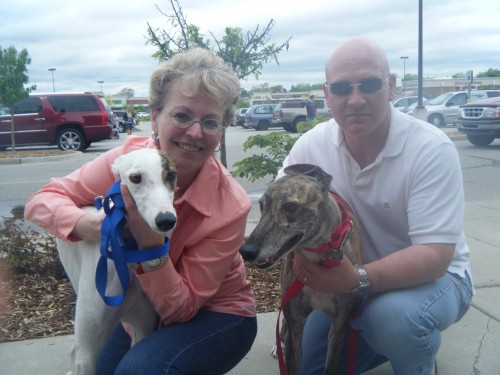 I know that many of my readers have lost precious pets.  It's never easy, and I think it's extra hard when you have to make that final call.  Paloma changed my life and who I am…all for the better.  I hope she's there to greet me when I pass over.  I'll be bracing myself.