February 10
.
Inspiration:
I found this plain heart box and thought it could use some dressing up.
Supplies:
Box
Old brooch (or anything you think is pretty)
Pliers (if you need to remove the pin back)
Glue (look for one that will bond the material of your brooch to the material of your box)
1.  If necessary, remove the pin back from your brooch.
2.  Glue the brooch on top of the box.  Follow the glue's directions for best adhesion.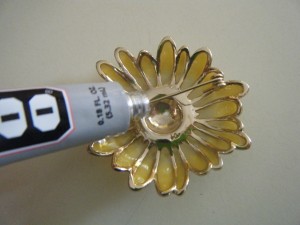 You've taken a plain box and made it into something special for your trinkets.