April 2
.
I am blessed with three sweet houndies, but into every good life comes a little naughtiness. I'm spending a few weeks remembering. This story happened shortly after we got Freedom and Casper. Nikki hadn't joined our family yet.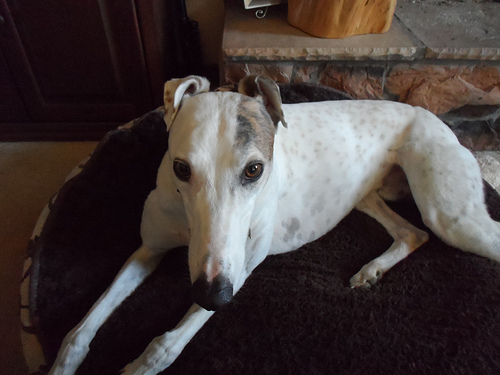 Am I in all these stories?
Freedom and Casper joined our family in April. April showers bring May flowers…and thunder. With the first rumble, we found out that thunder turned Freedom into a shaking mess. I search the internet and saw the Thundershirt.
During this time, we had some weekend guests and at one point the conversation turned to the Thundershirt. My husband thought that a tight t-shirt would serve the same purpose, so off he went to get a t-shirt. Casper, being a cooperative hound, was chosen as the test subject. The t-shirt was slipped on him, it was huge, so the experiment was deemed a failure, but we kept the t-shirt  on him because he looked so cute.
Jump ahead a little bit…Everyone was talking and visiting; Freedom and Casper were sacked out in the family room, and I decided to put some of the recyclables in the bin in the garage. I went out, but I didn't close the door completely. As I walked toward the recycle bin, I heard the door pop open. I turned around and out comes Casper.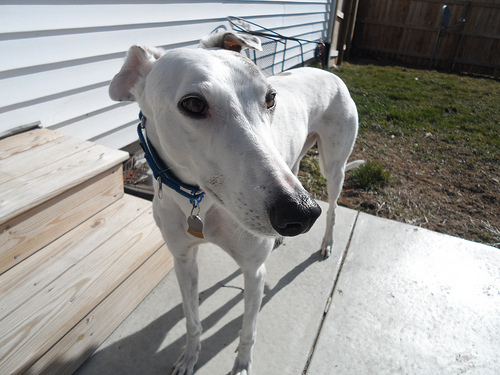 I was curious to see what was out in front of the house, and then my mommy scared me.
Now, a little information about Greyhounds and their collars. Greyhounds and other sight hounds have necks that are larger than their narrow heads, so they wear a limited-slip collar, more commonly known as a martingale. A martingale collar consists of a length of material with a metal ring at each end. A separate loop of material passes through the two rings. The leash attaches to a ring on this loop. If your pup tries to back out of a martingale collar, the collar tightens around their neck.
I grabbed Casper's collar but didn't grab the tightening loop, so he backed right out of his collar. Oh, no! now I'm starting to panic, so I move towards him, probably in a pretty wild way. Casper gets scared and starts to move away from me. Now, I'm hollering for my husband, further spooking Casper, who trots down the driveway and onto the street, determined to find a new home where the lady of the house doesn't scream and grab at you.
 
I'm a little scamp!
So there goes my relatively new Greyhound…collarless, not microchipped and wearing a t-shirt. I happened to remember reading that if your Greyhound ever took off and you could still see them, you should try to get their attention and then run away from them, hopefully tapping into their instinct to chase moving objects. That's what I did…I called his name, got his attention and took off jogging towards the house, and IT WORKED. Casper caught up to me quickly. Thankfully, he had on that goofy t-shirt, so I was able to grab it and walk him into the house. WHEW!
I'm glad I decided to come back.