December 1
.
Inspiration:
Sparkle – Layered Ribbon Trees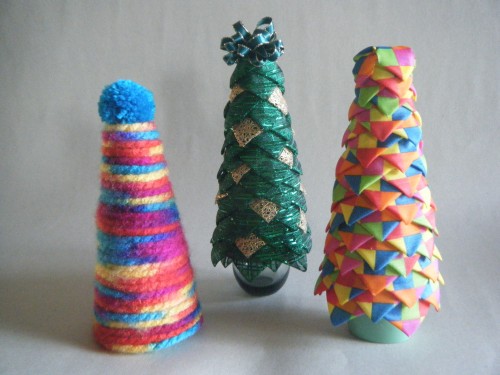 Supplies:
Styrofoam cone (I used the small 6″ cone)
Wired ribbon (approximately 6 feet)
Scissors
Straight pins
Glue
 
1.  Take the end of the ribbon and fold it at an angle to the edge.  Repeat with the other side to form the point of the first piece.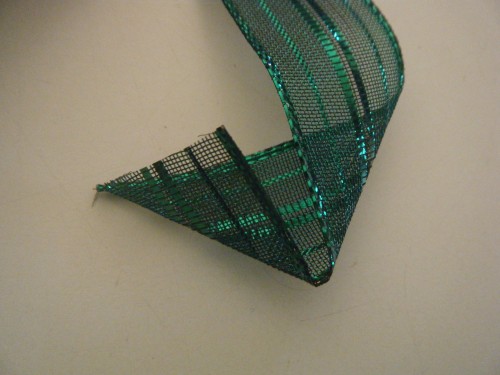 2.  Cut the piece off from the ribbon spool.
 
3.  Pin the piece to the bottom of the cone, leaving the point hanging over the edge.  Continue to make ribbon pieces and pin them around the bottom of the cone.  I overlapped the edges of the pieces and pinned them together, to save on pins and to have less pins to hide.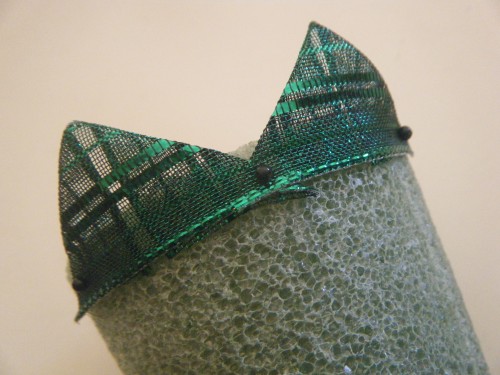 4.  To add your second (and so on) row, pin your pieces between the previous row's pieces, hiding the pins.  Continue adding rows until you're to the top.  Here's where everything started to go wrong.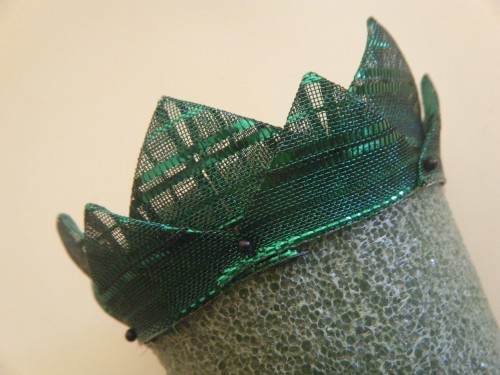 5.  I did not measure my ribbon, so I saw that I was going to run out.  I got some gold ribbon and added a few gold pieces. 
6.  I still didn't have enough for the top, so I cut out a felt circle and sewed ribbon loops to it to make a topper.
7.  Glue the topper on the cone and arrange a few of the loops to hide the pins.  Use a little glue if needed.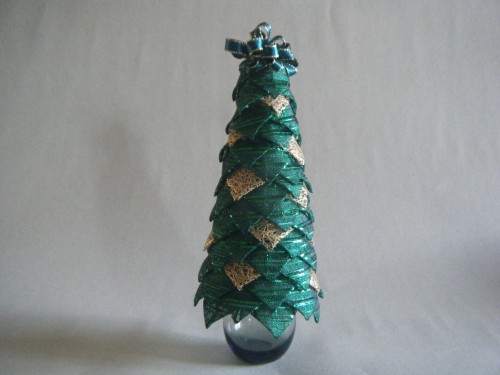 8.  Isn't this adorable! and the possibilities are endless.  Big cones, little cones, ribbon, fabric…just imagine the forest you can create.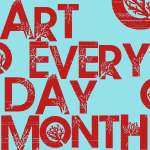 Yesterday was the last day of the Art Every Day Month challenge.  Thank you, Leah of Creative Every Day, for hosting this challenge.  Here's what I learned:
You have to make some really ugly things, to make some pretty things…and sometimes your ugly things are pretty things to other people.  Don't spend time analyzing and judging, spend time creating.
There are oodles of kind, generous, supportive fellow artists who wish you the best.  Let that spirit lift you.
Thinking about things, planning things, hoping for things, dreaming about things, doesn't get it done.  Doing things gets it done.
It's very important for me to work like this…in "challenge" mode, otherwise, all I'll do is "think" about it.
More than anything I created during the month of November, this challenge gave me a glimpse of how I need to work in order to move forward with my art.  I'll be applying these principles in 2012.
Here is a recap of all my AEDM projects: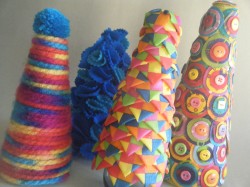 Thank you to everyone who offered up a kind word and followed along.