February 24
.
Inspiration:
Felt, Fabric, and Fiber Jewelry by Sherri Haab – Pg 40 (Ribbon Flower Pins)
Supplies:
18″ piece of ribbon
Needle
Thread
Scissors
1.  Thread needle.  Sew a running stitch along the bottom of the ribbon.  I made my stitches about a 1/4″ long.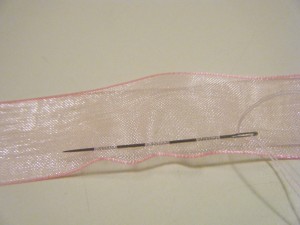 2.  Pull the thread to gather the stitches.
3.  Form the gathered edge into a circle.  Make a stitch between the beginning of the gathered ribbon and the end.  Knot off.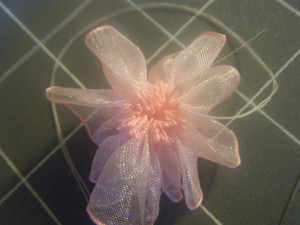 4.  There you have it!  A sweet little flower to top a gift or embellish anything you like.