January 13
Inspiration:
Pretty Petals Online Fabric Flowers Workshop
Supplies:
Satin Pillowcase (100% synthetic fabric)
Scissors
Candle
Aluminum Foil
Needle & Thread
1.  Cut 4 circles from the satin pillowcase.  It's important that the fabric is 100% synthetic.  I cut the largest circle approximately 5″ in diameter.  Each remaining circle should be 1″ smaller than the last.  I have a 5″ circle, a 4″ circle, a 3″ circle and a 2″ circle.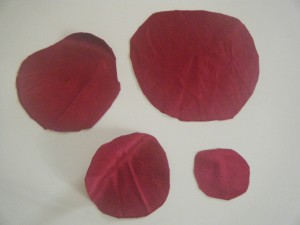 2.  Now, slightly melt the edges of the fabric.  Set up your workstation next to the kitchen sink.  Put down aluminum foil and place your candle on it.  Hold the edges of each circle near the flame and let the heat slightly melt them.
3.  Place the pieces on top of each other and sew a circle through all of them using long, widely spaced stitches.  Pull the  thread to gather the flower and knot it off.
4.  That's all there is to it.  You now have a beautiful satin flower to add to a hat, a scarf, a pillow or anywhere that needs a little more pizzazz.  Want to learn more?  Take the Pretty Fabric Fleurs online workshop.