November 29
.
All this month on Thursdays, I'm writing down some of my school memories.  I'm doing this because I'm putting together my first little photo album.  Back on November 1st, I wrote down some journaling prompts, and I'm using them to "free write" some of my memories.  My hope is that this will help me pick the stories I want to include in my album.
What did I wear (school fashion)?
Girls had to wear dresses when I first started school. This was in public school. When we were first allowed to wear pants, we had to go to a "fashion show" to see what was acceptable. If we wore pants, we had to wear a pantsuit, which was pants with a matching jacket or vest. This brings me to one of my favorite memories…When I was in 4th grade, I received a box of fabric for Christmas. To say I was disappointed (and confused) is an understatement. The "present" was that my mom was going to make me some mix-and-match outfits for school. She made me 2 vests, 2 skirts and 2 pairs of pants. This was my first foray into the world of mix-and-match, and as a future fashionista, I was delighted with all the possibilities. One of my ensembles was to wear a shirt, a vest, a pair of pants and a skirt…all at once. Â The first time my sister saw me in this particular outfit, she said to me, "Did you forget to stop dressing?" Ouch! Needless to say, I learned the value of editing. The picture above is me wearing a shirt, vest and skirt. I don't know if this was after my sister gave me her critique, or if it was just a day I hadn't selected the shirt/vest/skirt/pants combo.
Any interesting school field trips?
The only field trip I recall was our 6th grade field trip to the museums in Chicago.
What were my favorite/least favorite school projects?
My favorite school project was my first full-length story. It was a mystery, and I wrote it in the 4th grade. The last name of my main characters was Snickasneer. Whenever I read students' writing and it includes overly unusual names, it takes me back to this story of mine. I struggled with Geometry. Â We had to keep a notebook for that class,fd and I hated it.
What are some interesting school stories I would like to remember?
A fun story…My girlfriend was a little daredevil. One day she had the idea that we could climb out of our second floor classroom window, lower ourselves to the ledge between the first and second floor, turn around and them leap down to the ground. She demonstrated this and then it was my turn. I couldn't bring myself to do it, so she ran all the way back into the building and did it again to show me how easy it was. At this point, I had to do it or be labeled a "chicken," so I crawled out the window and as soon as my feet touched the ledge, our teacher rounded the corner and  hollered at me "to get down from there." That type of luck has followed me throughout life. I had to just give in a behave myself.
How did school shape me into the person I am today?
Art Every Day Month – Day 29
I'm participating in Art Every Day Month.  Every day during the month of November I'm going to start a painting. They will vary in their completeness…from "just started" to done."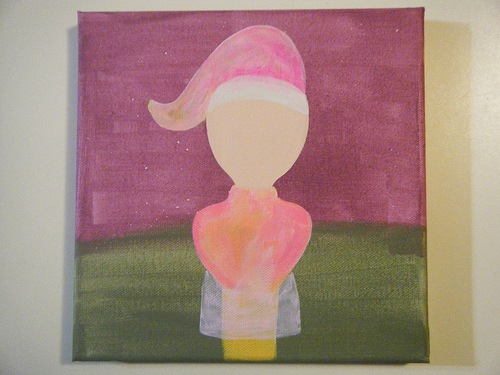 Daily Inspiration
First say to yourself what you would be; then do what you have to do.
Epictetus