November 15
.
All this month on Thursdays, I'm writing down some of my school memories.  I'm doing this because I'm putting together my first little photo album.  Two weeks ago, I wrote down some journaling prompts and I'm going to use them to "free write" some of my memories.  My hope is that this will help me pick the stories I want to include in my album.  Here we go…
What did I want to be when I grew up?
I wanted to be an archaeologist, specifically an Egyptologist.  I had a book about the treasures of ancient Egypt and that's what started my interest.  This was in junior high school.  I remember we were given a test to see what career we'd be good at.  I want the test to come back saying that I was best suited to be an archaeologist because I figured that would convince my mom that this was the career for me.  I selected answers that I thought would lead to that result.  So, the perfect career for me…FBI agent.
Who were my favorite and least favorite classmates?
My favorite classmate, my best friend, Ellen.  We met in kindergarten and we're still friends today.  The first time I got in trouble at school was because of her.  Every day we had a "rest period" where we had to lay our heads down on our tables and rest.  We set a different tables and one day Ellen lured me over to her table for rest period.  It didn't take much for her to lure me.  She was my new best friend and in the way of small children, I always wanted to be close to her.  Miss Cichowicz saw me, snapped her fingers at me and pointed me back to my table.
Fortunately, I didn't have to deal with any bullying in school, but there was a little boy name Dimitri who made more than one of us cry in elementary school. Â He made me cry by pushing me against a bulletin board. Â From what I remember, the teacher was out of the classroom and he was acting up, so I got up to go get her and that's when he got me.
What are my memories of my teachers?
I had good teachers all during my school years. Â There were a couple stinkers, but no horror stories like I know some folks have. Â One of my favorite teachers was Miss Smith, my fourth grade teacher. Â I think we were her first class. Â She was young, beautiful, stylish and an awesome teacher. Â She was the creator of the Easter egg method of learning our times table that I told you about last week. Â She made learning fun and was a great teacher.
What did I do during recess?
Hmmm…I remember getting blisters on the monkey bars. Â Our playground had a lot of large oak trees and I can remember playing make-believe games around their roots, but I don't remember anything specific. Â I remember enjoying recess, but no standout memories.
Art Every Day Month – Day 15
I'm participating in Art Every Day Month.  Every day during the month of November I'm going to start a painting. Most won't be finished, but I'll get something started…a lot or a little.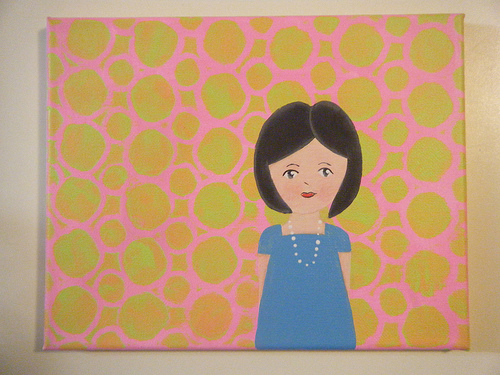 Daily Inspiration
"Be yourself" is about the worst advice you can give some people.
Tom Masson