October 7
.
I'm guessing the title of this post has most folks going, "?????"  Let me explain.  One of the wonderful things about blogging is all the people you meet and new things you learn.  I received this envelope from Australia.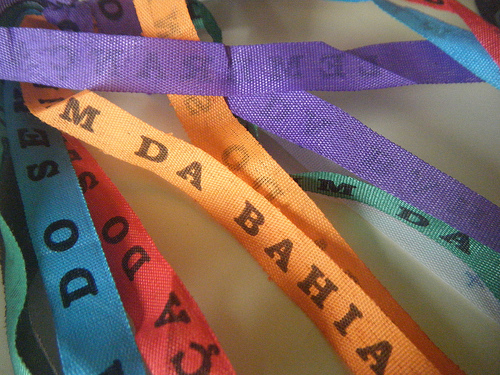 Inside, were all these beautiful Senhor do Bonfim fitas (Lord of the Good End ribbons). 
I received these ribbons from Georgia Little Pea's mom (The Typist).  Georgia and The Typist write the blog Little Dogs On Long Leashes.  The Typist is a capoeirista.  Capoeira is a Brazilian martial art that combines elements of dance and music.  The Typist visited Brazil and while there, went to Igreja de Nosso Senhor do Bonfim in Salvador, Bahia, Brazil.
The ribbons have "Lembrança do Senhor do Bonfim da Bahia" printed on them which roughly translates to In Remembrance of the Savior of Bahia.
The ribbons' primary function is to petition for future miracles.  To learn more about the church and the history behind these ribbons, The Typist recommends this post from Travelvice Travelogue.  It is well worth reading…very interesting.  You can read about The Typist's visit to Igreja de Nosso Senhor do Bonfim here.
Thank you, Georgia and The Typist.  I love them.  Here's to wishes and miracles.
Daily Inspiration
 
Hope is that thing with feathers that perches in the soul and sings the tune without the words and never stops… at all.
Emily Dickinson