June 29
.
Every Saturday, I share my weekly Artist Date.
I mentioned last Saturday that I was on a road trip with my mom and one of my sisters. We had a wonderful time, so I'm going to take the next few Saturdays to tell you about some of the places we visited. I decided to write about these stops as Artist Dates because they were very inspiring.
Our first stop was Shaker Village of Pleasant Hill, Kentucky, located less than 30 miles from Lexington, Kentucky.
The United Society of Believers in Christ's Second Appearing, also known as the Shakers because of their ecstatic worship style, formed in 18th-century England.
In 1774, Ann Lee, a leader in the Shaker movement, and eight other members emigrated to America. The Shakers saw themselves as preparing the way for the new era when God's will was done on earth. As such, the Shakers believed in no boundaries of gender, social class, or education, Christ-like deportment, simplicity, utility, perfection, communal property and celibacy
The Shakers built 19 settlements in America from Maine to Kentucky and attracted just under 17,000 members. Shakers acquired new members through conversion and the adoption of orphans. Pleasant Hill was the third largest community with 500 members.
The Pleasant Hill settlement began in 1805. Over a 105 year span, the Shakers of Pleasant Hill constructed more than 260 structures and their land holding reached approximately 4500 acres. By 1910, the Shaker Village of Pleasant Hill closed its doors as an active religious society. The last Shaker of Pleasant Hill, Sister Mary Settles, died in 1923. Pleasant Hill became a small country town called Shakertown until historic restoration began in 1961. 34 of the original 260 buildings remain.
We started by touring the Centre Family Dwelling. Guides and craftsmen and craftswomen are available all over the village to tell you about the Shakers, the village and Shaker life.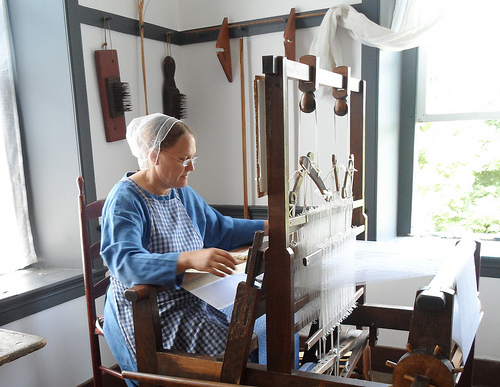 We saw demonstrations of weaving, woodworking and broommaking.
We had lunch at the Trustees' Office Dining Room. It was elegant, beautiful and delicious.
Our visit was a short one, so we just got a taste of Shaker Village. I would love to go back and spend a few days there.
Today, only one community exists with Shakers in residence. It is near Lewiston, Maine, at Sabbathday Lake and has four remaining residents.
If you'd like to read more about the Shakers, the Shaker Village of Pleasant Hill website has some great reading.