July 7
.
I've written weekly posts that I categorize under "Creating The Creator" ever since I started writing my blog. What Remains Now is a record of my creativity journey, something I started after my daughter left for college. For the last two years my journey has moved forward at a nice pace, but the last couple months I've been very unmotivated and really not too interested in changing that…in other words, stuck.
The last time I felt like this in a big way, I worked my way through the book SHED Your Stuff, Change Your Life by Julie Morgenstern, and it helped me.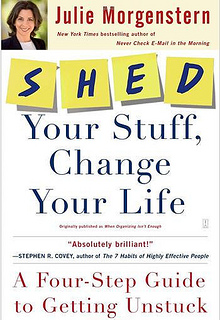 "The four steps of SHED (Separate the Treasures, Heave the Trash, Embrace Your Identity, Drive Yourself Forward) provide a framework for proactively managing change, transition, and the feeling of being stuck and unsure. By releasing the defunct, extraneous, and burdensome objects and obligations that are weighing you down, you create the space to discover what's next and gather the energy and courage to move forward."
There are three areas where you work the SHED process…physical space, time and bad habits.
I'm starting with my physical space, keeping in mind my theme…Caring, Artistic & Free.
The first step is to decide where, in your physical space, to start…your "point of entry." You look for areas that aren't active and dynamic in supporting your theme. You're looking for "collections of items that are generally immobile, unused, excessive, those that bring up negative feelings or no longer feel relevant."
The second step is to separate the treasures of which there are two basic types…practical treasures and meaningful treasures. Practical treasures are "objects that are useful to you and can contribute to your ability to fulfill your new theme." Meaningful treasures are "symbolic or sentimental objects that bring you pure and unambiguous joy, energy and inspiration."
Julie encourages you to set-up some "Treasure Guidelines" before you start separating the treasures, to help keep you focused and strong. She also talks about the different reasons you may feel attached to an item. This can be helpful in breaking attachments to items you really shouldn't keep.
From here on out, I'll just be summarizing points in the book as I read through it, because it's going to take me more than a few weeks (a lot more) to complete my SHED process. Even though I won't report the laborious SHED of my physical space, next week I'll pick an area and work through the process to illustrate how it works.