July 14
.
I'm working my way through the book SHED Your Stuff, Change Your Life by Julie Morgenstern.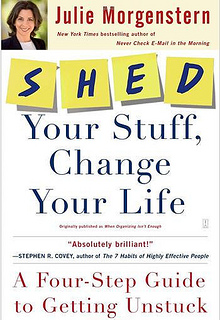 "The four steps of SHED (Separate the Treasures, Heave the Trash, Embrace Your Identity, Drive Yourself Forward) provide a framework for proactively managing change, transition, and the feeling of being stuck and unsure. By releasing the defunct, extraneous, and burdensome objects and obligations that are weighing you down, you create the space to discover what's next and gather the energy and courage to move forward."
There are three areas where you work the SHED process…physical space, time and bad habits.
I'm starting with my physical space, keeping in mind my theme…Caring, Artistic & Free. Having a theme is particularly helpful because it gives me something to focus on and inspires me to part with things when I waver.
Last week, I outlined the process Julie gives you to SHED your physical space. This week, I started on some drawers and cabinets. I chose to start with drawers and cabinets because I can get through one quickly, and it helps me build momentum for larger projects. They're good practice.
Here are two examples…my candle drawer and my collar drawer.
Candle Drawer – Before
Candle Drawer – After
I burn candles several times a week, so this is not a stagnant drawer…just messy.
I pulled out items that belong somewhere else,
and I pulled out items I no longer want.
Collar Drawer – Before
Collar Drawer – After
Again, I pulled out items that belong somewhere else,
and I pulled out the items I no longer want.
All of the items in these two drawer were "practical treasures." Practical treasures are "objects that are useful to you and can contribute to your ability to fulfill your new theme." I find dealing with "practical treasures" easier than dealing with "meaningful treasures" that are "symbolic or sentimental objects that bring you pure and unambiguous joy, energy and inspiration."
Next week, I'll do an area that contains "meaningful treasures" and review what Julie says about working the SHED process with your time.