May 20
.
One of the great things about adopting a retired racing greyhound is the group of folks you get to hangout with.  Our group, Allies for Greyhounds of West Michigan, hosts a variety of events throughout the year.  My favorite is the Spring Fling.
Saturday morning, we loaded up and headed towards Grand Rapids, Michigan.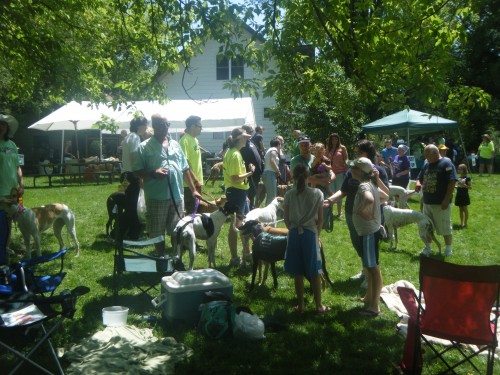 Our lovely hosts opened their backyard for this fun event.  There was plenty of room to picnic.
Including a great place for the houndies to run off lead.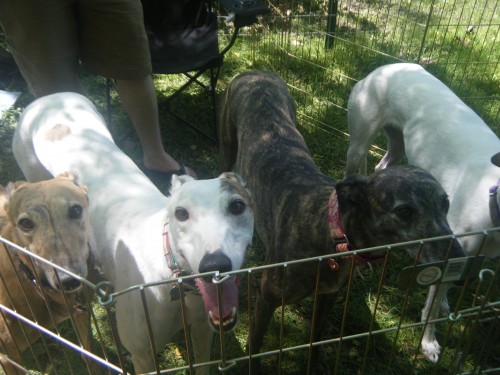 Zonda, Casper, Miura and Eva 
We met our friends and combined our x-pens so the houndies could relax while we enjoyed an excellent potluck lunch.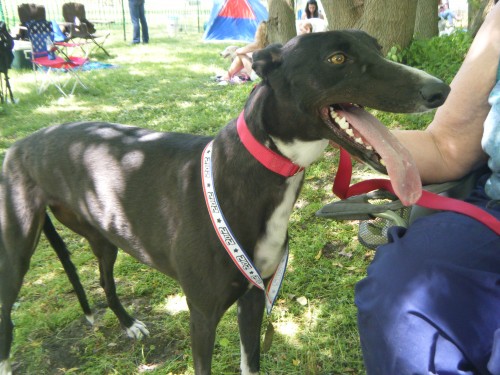 Our event is open to anyone who wants to come.  It's a great way for folks to check out the hounds available for adoption.  We also get to see old friends.  This is Pippa.  Before Pippa found her forever home, she was fostered by our friends, Tyler and Amy.  She won the award for "Youngest Hound In Attendance."
After lunch, we had a family photo taken by Green Cherry Media.
Then, I went to check out my favorite area…the silent auction.
All too soon it was time to head home.  Thank you so much to everyone who worked to make this event possible.  It is a highlight of our year.
Wondering what I won in the silent auction?  Here's what I got…
An electric cooking pot (for my husband).
 
Two gift certificates…one from Gini's Greyhound Fashions and one from P.L.A.Y.  Can't wait to spend these.
 
An authentic racing muzzle and silk.  I was going to have one of the houndies model these for everyone.
"Casper, would you like to model?" 
"Zzzzzzzzzz."
"Nikki, would you like to model?"
"Zzzzzzzzzzz."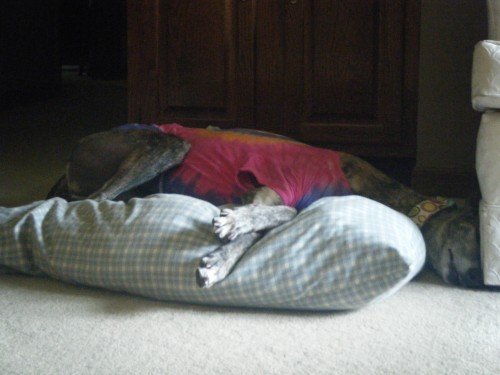 "Freedom, how about you; would you like to model?"
"Zzzzzzzzzzzz."
Everyone had a wonderful time.  It was a VERY quiet evening.
 Daily Inspiration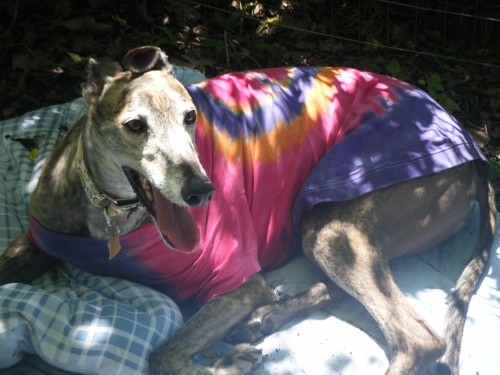 From beasts we scorn as soulless,
In forest, field and den,
The cry goes up to witness,
The soullessness of men.
M. Frida Hartley