May 21
.
Last Saturday was one of my favorite days of the year…The Spring Fling.
The Spring Fling is the annual gathering of our Greyhound rescue group, Allies for Greyhounds of West Michigan (AFGWM). It's held in Grand Rapids, Michigan.
There are vendors and a silent auction, contests (Best/Longest "Roo," Longest Tail, Shortest Tail, Best Eyeliner, Best Smile, Baldest Bum, Longest Nose, Longest Sit, Best Trick, Greyhound Look-Alikes, Oldest, Youngest and Traveled Farthest) and a potluck lunch.  We take an AFGWM "family" photo and best of all, visit with all the Greyhound families.
This year, we also had wonderful vet techs who volunteered to clip nails and clean ears, then they donated all the fees back to our group. Wasn't that nice! Freedom, Casper and Nikki got their nails clipped; Freedom had one ear cleaned, and Nikki had both ears cleaned. Casper has naturally clean ears.
There's also a fun run area where the dogs can run around and visit (with muzzles) without being on a lead. This is also where they can take care of "business."
The pups could also be off lead if you brought an enclosure for them. Here's Freedom, Casper and Nikki's digs.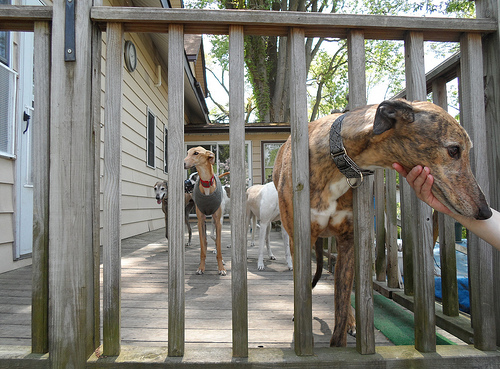 Our hosts' pups spent time viewing the action from their porch. They were very gracious.
I was on a mission this year…for Freedom to win the "baldest bum" contest. I thought we had it in the bag, but last year's winner was also a contestant, and it was called a tie. A coin toss decided the winner, and we lost. DRATS!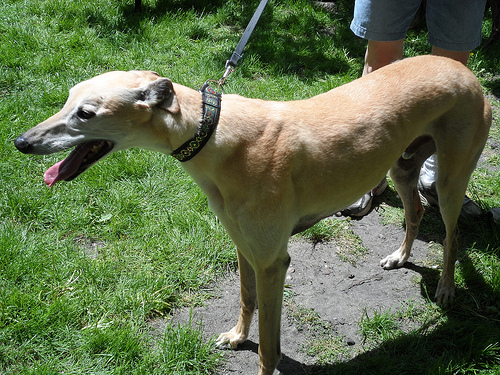 I must say, the winner is a handsome lad. Congratulations, Nick!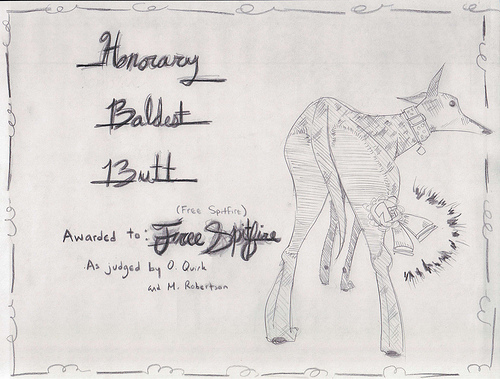 My daughter and her fiancé whipped up a special certificate for Freedom, since I was devastated by the loss.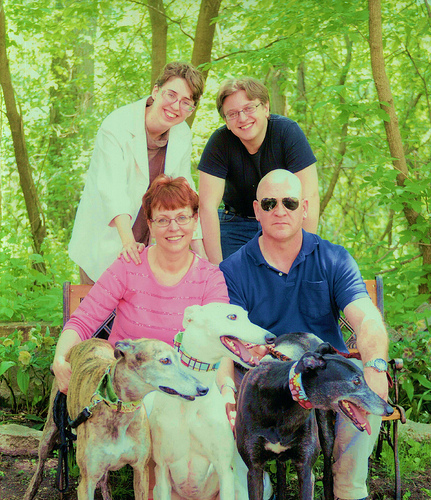 Another cool thing…family photos were available. This may end up being our Christmas card photo. I had to crop it though. Casper decided to sit down during the photo session.
I guess I forgot to tell him that private bits aren't allowed in the Christmas photo, but now, at least, I have my Awkward Pet/Family Photo submission. Maybe I can win that contest.
We also were the first to hear the announcement that our group is changing it's name from Allies for Greyhounds of West Michigan to Allies for Greyhounds. This name better represents all the hounds the group serves and has placed all over the country. I love the support offered by our Greyhound family. Thank you to all who made this special day possible.
Curious about previous years? Here are my posts from 2012 and 2011.