September 22
.
Inspiration:
Darice® Jewelry Twists by Wendy Cooper & Marie Vetrano – Four Color Flower with Spray Pin
 
 
Supplies:
T-shirt
Scissors (I used a rotary cutting system)
Needle
Thread
1.  Cut a piece of t-shirt material and remove any seams.
2.  Cut strips approximately 3/4″ wide.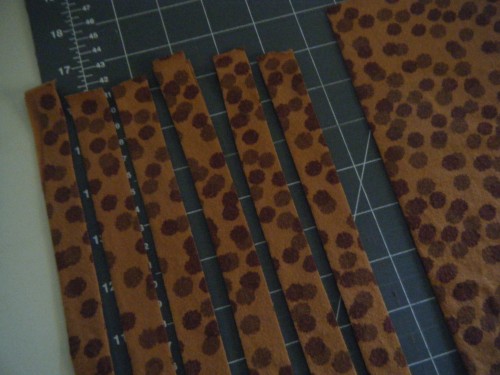 3.  Grab each end of the strip and pull.
 
4.  Gather strips and stitch the ends together.
 
5.  Grab both ends and twist until the strand curls around itself.
 
6.  Secure both ends in back with needle and thread.
 
7.  Repeating Steps 1-3, make a few strips in another color.  Loop together and stitch to secure.
 
8.  Stitch to the back of the flower.  That's it.  Super simple and the size and color choices are up to you.