October 30
.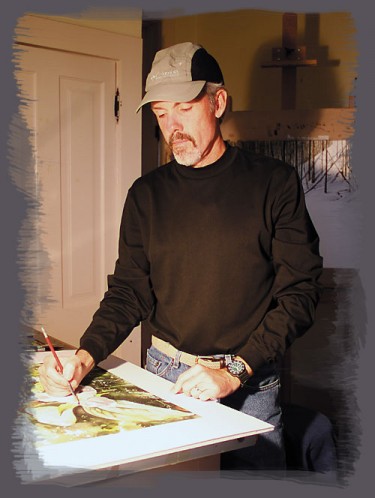 Last Saturday, I spent a wonderful day with my friend, Amy, taking a watercolor class a Terry Armstrong's Studio & Gallery.  This was the first time I ever did anything like that, and it was fantastic!
Terry's studio/gallery is located in his historic 1870's brick home in Warsaw, Indiana, were he lives with his wife, Mary.  When we arrived at 9 am, Mary had a lovely breakfast buffet out.  Then, midway through the day, she served us a delicious lunch.  Terry is the artist in the classroom, but there is no doubt who the artist in the kitchen is.  Yummy!
 
Amy and I took the "Abstract Wild Flowers" class.  Before class, I received a list of supplies to bring and instructions on what to have prepared before class.  Amy totally babied me and did most of my prep work, like stretching my paper and sketching the design.  Terry offers an option to beginners to use his paints and supplies for a small additional charge…totally worth it if you're just checking things out.  Terry paints right along with the class, showing you each step and discussing the technique behind it.  Here are a few pictures of my painting in progress:
Terry is very encouraging and so were the other students.  The day flew by, and around 4 pm we were wrapping things up.  It was fun to look at everyone's painting.  Each different and all beautiful.  I had a blast and would love to take more classes in the future.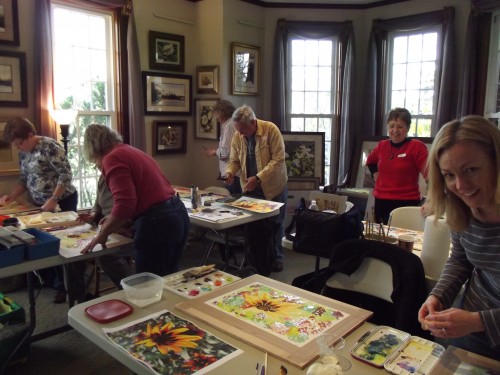 My picture wasn't completely finished at the end of the day, but very close.  My plan is to make a smaller version of this picture, incorporating the techniques I learned and using my new and improved eye for color and light.  Here is a picture of my painting at the end of the day: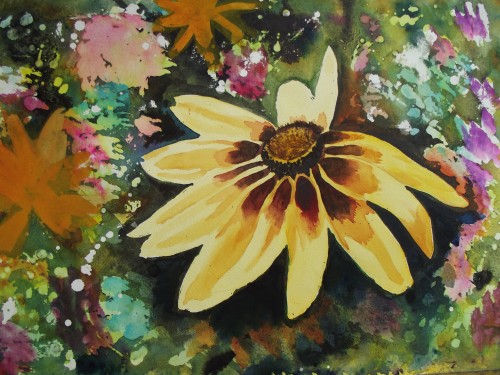 If you have the opportunity to take one of Terry's classes, you'll be thrilled with your project and the entire experience.  Thank you Terry, Mary, Amy and all my fellow watercolorists…it was a pleasure painting with you.
To view Terry's work, visit his website and click on the Gallery links on the left-hand side.