April 25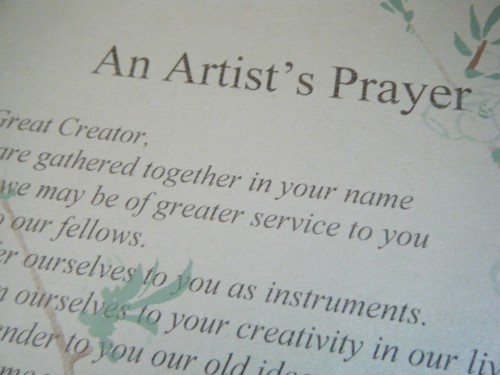 The Epilogue to The Artist's Way contains this quote that speaks eloquently of how I want to embrace my journey…
"What I conjure now is a mountain of Himalayan proportions with a path winding upward to its height.  That path, a spiral path, is how I think of the Artist's Way.  As we pursue climbing it, we circle back on the same views, over and over, at slightly different altitudes.  'I've been here before,' we think, hitting a spell of drought.  And, in a sense, we have been.  The road is never straight.  Growth is a spiral process, doubling back on itself, reassessing and regrouping.  As artists, our progress is often dogged by rough terrain or storms.  A fog may obscure the distance we have covered or the progress we have made toward our goal.  While the occasional dazzling vista may grace us, it is really best to proceed a step at a time, focusing on the path beneath our feet as much as the heights still before us."
Here's what I have learned…
The Basic Tools (Morning Pages and Artist's Date) are essential.  I love them because they are private and there is no "right" way to do them.  These are two tools that I will continue indefinitely.
I am creative and an artist.  I have something unique, that only I can offer.  This is true for everyone.
Creativity is a spiritual journey that requires trust, release, relinquishing control and faith.
Affirmations do work!  For me, I have to keep them short and relevant to where I'm at…and not have too many of them.
Identifying my enemies and monsters goes a long way towards ending their power over me.
Creativity needs space and time.
Possibilities, opportunities and synchronicity are abundant.  It's important to prepare for them, watch for them and acknowledge them.
It's important to establish what I need for stability and flow.  The "mix" is different for everyone.
I have to know how to deal with gains and losses, successes and failures.
Gratitude must be present…always.
Creativity lies in the doing, not in the done.
The purpose of the work is the work.
My inner artist is a child.  I need to be protective of her, treasure her, pamper her and let her play.
Art and its expression is as diverse as the people who create it.
My artistic credibility is between me, God and my work.
The journey up to this point has been amazing.  Now, it continues.  Next week, I'll tell you about the new adventure.  It is completely different!