December 17
.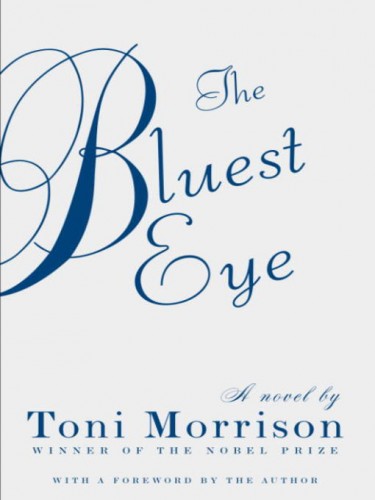 This book touched me deeply.  Set in Lorain, Ohio in 1941, this is the story of 11-year-old Pecola Breedlove.  Three things have greatly affected her life: being a child, being black, and being a girl.  This is a story that deals with the horrible injustices of racial hatred, incest and the power of language to hurt; but what gives this book the ability to touch anyone is the underlying theme of self-hatred.  The Bluest Eye is not a book to read for pleasure; but if you love the power of the written word and the beauty of language, and you believe in the ability of a "story" to change things, The Bluest Eye won't disappoint.
I'm participating in a readalong challenge hosted by Nicole (Linus's Blanket) and Natalie (Coffee and a Book Chick).  The book we're reading is Wolf Hall by Hilary Mantel, the 2009 Man Booker Prize winner.  Wolf Hall is a fictionalized biography chronicling the rise to power of Thomas Cromwell in the court of King Henry VIII, and is currently being adapted into a miniseries by HBO and BBC.  This week, we finished the book and read Parts 5 & 6.
Reading Wolf Hall in 3 weeks was a challenge; but without a deadline, I may have put this book aside.  I'm glad I pushed through, because for anyone interested in Tudor England, Wolf Hall is well worth reading and will greatly enhance your feeling for and understanding of the period.
Henry VIIII became king during a time of incredible change.  England had endured years of civil war; the Catholic church was being challenged by the Protestant Reformation; and the King of England, married 20 years to his brother's wife, had no male heir.  Henry wanted to annul his marriage and marry Anne Boleyn.  Into this world, stepped Thomas Cromwell.  Thomas Cromwell was not an aristocrat; but he was an original, modern man with a sharp mind and the ability to read people and recognize opportunities.
Wolf Hall imaginatively puts flesh and feelings on the Thomas Cromwell of history, who is alternatively admired or villified.  Ms. Mantel develops a plausible character by showing us how Thomas Cromwell grew up, his family, his character, his conversations and his observations and assessments of situations.  Ms. Mantel doesn't try to explain Cromwell, she attempts to unfold him.
A magical aspect of this novel for me, is that by revealing Thomas Cromwell, Ms. Mantel reveals the birth of a new age; and the author does the same for all the larger-than-life historical figures.  She presents them through conversations and details that unveil them in a way that is new, refreshing and immediate.  You aren't told about historical figures and events, they're revealed to you as if you were there, discovering them for yourself.
I would recommend Wolf Hall to anyone who is interested in Tudor England, the Protestant Reformation and the psychological rendering of historical periods and characters.
If you're interested in Wolf Hall, check out these wonderful reviews from Coffee and a Book Chick…Parts 1 & 2, Parts 3 & 4 and Parts 5 & 6.