June 24
.
A few weeks ago, we asked for questions for Freedom, Casper and Nikki.  We had a wonderful response and thank everyone for their questions.  I've decided to split this interview into two parts.
Freedom:  WHAT!  Two parts!  Why two parts!?
Well, after I typed up the answers, it was close to 2000 words.  That's almost 4 times a typical What Remains Now post.
Freedom:  Yeah, but a typical What Remains Now post is about all your boring creative stuff.  Our fans have been waiting for this!
Think of it this way…double the fun.
Freedom:Â  We're being robbed.
 
Casper:Â  Yep, robbed.
Nikki:Â  Totally robbed.
Regardless, let's begin.  Amy (Casper and Nikki's foster mommy) and Sue of Suzy's Sanctuary asked how and why did your parents choose each of you?
I'll start…After my human kid went off to college, I was very lonely.  That's when we got our first greyhound, Paloma.  We lost Paloma six months after we got her, and we were devastated.  As sad as we were, we knew that we needed another greyhound in our lives.  We had talked about getting another greyhound when we had Paloma, but hadn't taken the leap, so we decided to get two right off.  Kids…I'll let you take it from there.
 
Freedom:  I was picked out by my Daddy.  He picked me, sight unseen because I was related to Paloma, and I looked like Paloma.  When our adoption group representative described me as being "like Paloma, without the crazy," they knew they had to have me.  Do you see a disturbing amount of references to Paloma in my precious little adoption story?  The funny thing is, Paloma was Daddy's dog, but I'm Mommy's dog…even though Daddy picked me out.
 
Casper:  Mommy picked me out.  A couple weeks after they lost Paloma, they went to a Meet 'N Greet because they were going through "greyhound face kissing" withdrawal.  It just so happened that I was at the Meet 'N Greet with my foster mommy, Amy, who was also the mommy of Zonda, who was Paloma's sister.  Mommy wanted me right away because of the weird Paloma connection.  Daddy had his eye on a really big boy named Skittles.  I wasn't even two years old, and I was still kind of little, plus I was really shy.  Fortunately, Skittles was not cat-safe and Mommy wanted me, so Skittles didn't have a chance.  The funny thing is, I'm Daddy's boy…even though Mommy picked me out.
 
Nikki:  They didn't even see me coming.  My foster home was with foster mommy Amy, just like Casper.  I think I went there in March 2011.  In May, at the Spring Fling, a lady came to look at me and Mommy didn't really like the idea that this lady was looking at me.  Mommy didn't tell anyone, and I just mentioned it because that's the first time Mommy started thinking about me.  That lady didn't adopt me.  I even went to another home visit but I didn't get picked because I'm kind of shy.  Sometimes people don't like black dogs (or cats) or shy dogs, so my awesomeness was pretty well hidden  FINALLY in July 2011, my Mommy and Daddy realized they couldn't live without me.  Thank goodness they came to their senses.  I love both my Mommy and Daddy.  They consider me their "baby" even though Casper is younger than me.  I don't mind.
Our next question is from Bunny of Tales and Tails and Jay from The Depp Effect.  They asked what are your "official" names.
Freedom:  My name is Free Spitfire and my litter number is 42469.  My birthday is 5-14-07.
Casper:  My name is Try N Ryan and my litter number is 47558.  My birthday is 7-7-08.
Nikki:  My name is Silver Nikita and my litter number is 42995.  My birthday is 6-20-07.
Sue of Graceful Greyhounds and Nola of Dachshund Nola asked if you all get on together?
Freedom:  I get on with Casper and Nikki as long as they act right.  I keep a sharp eye out in case they don't and then I correct them with a sharp bark.  The only thing I don't like is Casper ALWAYS wants whatever bed I'm on.  It drives me crazy!  Nikki's pretty cool with me because she knows how to act (if you could see me right now, you would see that I'm looking in Casper's direction).
Casper:Â  I get on with everyone.
Nikki:  I stay out of the Casper and Freedom thing.  I'm a very laid back hound and don't want any trouble.
Nellie of Cat From Hell asked what nationality you consider yourselves to be.
Freedom:Â  100% American…goes with my name.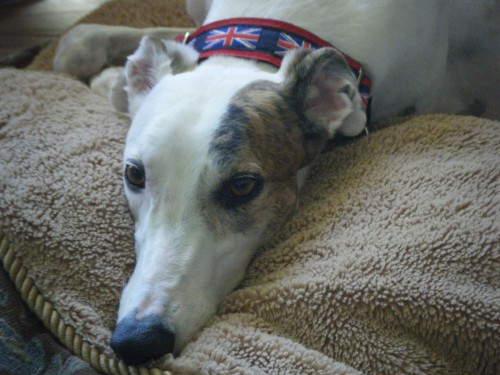 Casper:  I consider myself American, but I feel I possess a sophistication that would make me at ease in Europe, both in Britain and on the Continent.  I think my Man of the World aura would serve me well anywhere on the planet.
Freedom:Â  He's a Fruit Loop.
Freedom, no commentary on Casper's and Nikki's answers.
 
Nikki:Â  I consider myself American, but since my name is Nikita Silver, I sometimes play like I'm a Russian princess.
That's very sweet, Nikki.  On that note, we'll close and answer the rest of the questions next Sunday.
Daily Inspiration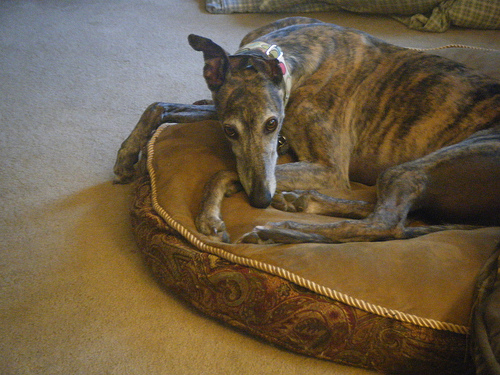 Lots of people talk to animals…Not very many listen, though…That's the problem.
  Benjamin Hoff, The Tao of Pooh