January 29
.
Some folks who read What Remains Now have noticed that I often feature pictures of three lovely Greyhounds with the "Daily Inspiration" quote.  What you may not know is that for most of my life, I wasn't a "dog" person; I was a "cat" person (still am).  For 18 long years, I  repeatedly ignore the pleas of my daughter (and husband) to add a dog to our family.  Then, my lovely daughter grew up and went off to college.  I promptly got a dog.
I would feel worse about this if I didn't know it is a fairly common occurence among women dealing with "empty nest" syndrome.  My treachery did NOT sit well with my daughter, but she has since forgiven me (I think).  So, let me introduce you to the "kids."
Freedom
Freedom is our dominant dog.  She keeps everything in line and in good working order.  She's confident, a little pushy and my special sweetheart.  Freedom is a brindle dog and has no hair on her neck, chest, stomach or butt.  It's not real noticeable because her skin is "brindly" looking.  She also has an adorable bent ear.  Whenever anyone meets her, they always try to straighten out her ear.  Her racing name was Free Spitfire and she was a horrible racer.  Freedom is 4 years old.
Casper
Casper is my sweet boy.  He's a good second to Freedom's lead.  Casper is playful, sweet and funny.  I call him my bloggin' buddy because he likes to come in my studio and nap while I type.  Casper is the king of passive-aggressive behavior.  He rarely challenges Freedom head-on, but he always gets what he wants.  One day, I'll capture his signature moves  on video.  Casper is everyone's favorite.  His racing name was Try N Ryan and he was a lousy racer too.  Casper is 3 years old.
Nikki
Nikki is the newest addition to our pack.  You couldn't find a sweeter or better dog than Nikki.  One of my nicknames for her is "Licky Nikki" because she likes to give kisses.  Nikki stays apart from much of the action and hasn't come into her own yet.  Nikki's racing name was Silver Nikita and she was a good racer…75 races, 8 wins and 9 seconds.  Funny thing…I never see Nikki run.  Freedom and Casper will race around the backyard, but Nikki just meanders around and grazes on grass.  Nikki is 4 years old.
Twinkie
Twinkie is our grande dame.  She's 16 years old and, when she's awake, she's still a feisty gal and can hold her own in a three dog home.  My favorite "weird" thing about Twinkie…she snores, loudly.  She also doesn't like to have her picture taken.
All the pictures in this post (with the exception of Twinkie's picture) were taken at Dewey Beach, DE by Nathaniel of Balance Photography.
Daily Inspiration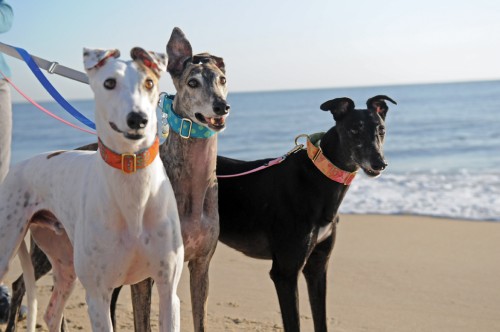 If having a soul means being able to feel love and loyalty and gratitude, then animals are better off than a lot of humans.
James Herriot