April 9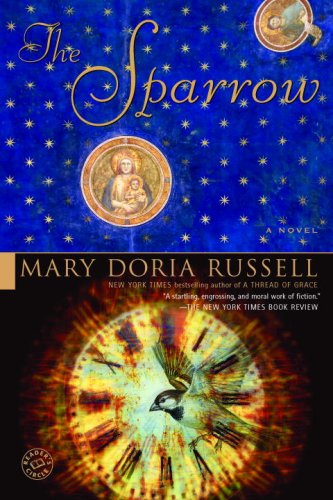 In 2019, a listening station picks up the sound of music coming from the vicinity of Alpha Centauri.  The Society of Jesus secretly organizes an 8-person expedition to make first contact.  The Sparrow moves between 2019 and 2060 when the only survivor of the mission is being examined by Vatican inquest to find answers to questions about what happened and what went wrong.   The story is told in alternating segments and examines what happened before, during and after the journey to Rakhat.
This was one of my book club's selections last year.  Let me say that Science Fiction is not one of my favorite genres.  Most everyone else in our club would say the same.  At the end of the year, almost every member said that this was their favorite book or the one that impacted them the most.  It is a compelling story, well told.  It is also a philosophical tale, a spiritual quest and a look at what happens when man tries to do the right thing for the right reason but sets into motion events that change everything.
There is also a sequel, Children of God, if you want to hear more of the story.