January 10
.
There's a lot going on in today's post.
I'm participating in the Pet Blogger Challenge. Sponsored by GoPetFriendly.com, it is a community event that gives pet bloggers from around the world the chance to get to know each other, find out what motivates them, share tips for making their blogs better, commiserate, inspire, and support each other.
A list of questions was provided to everyone participating. Let's go…
1. When did you begin your blog?
I started What Remains Now on January 1, 2011.
2. What was your original purpose for starting a blog?
What Remains Now came out of my love for Tales and Tails. A link to Tales and Tails was posted on my Greyhound group's Yahoo! Groups page. At the time, I didn't read blogs, but I fell in love with the Tales and Tails gang and every morning my girlfriend and I would start our day by reading or by talking about what was happening with Lilac, Blueberry and Bunny. One day, my girlfriend told me that I should write a blog about my greyhounds and call it Greyhounds or Bust. I thought she had lost her mind, but apparently a seed was planted.
The funny thing is, I can't remember the moment I decided to start What Remains Now. A friend's husband was between jobs and I asked him if  he would set-up a blog for me. He said "yes." That was important because if I had had to set it up, I probably would have never gotten around to it. Since my daughter was off to college, I wanted to get back in touch with my creativity and share the things I found interesting. I loved how happy I felt when reading Tales and Tails, and I wanted to create that experience for those that enjoyed my blog. Once I started writing, I fell in love with blogging and the changes I could see in myself, and I've been hooked ever since.
3. Is your current purpose the same?
No and yes.
If not, what's different?
When I started What Remains Now, I wanted to focus on crafting using re-purposed items. Then, I took Juliette Crane's How to Paint a Girl e-Course and I fell in love with painting little girls. Now, I want to paint, paint, paint.
If so, how do you feel you've met your goals?
What Remains Now is still the same in that it records my creativity journey and is an extension of myself out into the world. I feel I've met my goals because I write What Remains Now with as much sincerity as I can.
4. How often do you post?
I post every day.
5. Do you blog on a schedule or as the spirit moves you?
I blog on a schedule, but I find there is a lot of room for the spirit to move me within that schedule.
If you publish on a schedule, why? How strict are you about your publishing deadlines? What do you do for inspiration when it feels like you've covered every topic?
I publish on a schedule because I need the structure. I'm just not a good free spirit. Even though I blog on a schedule, I try to make the categories broad enough that I have a lot of room to cover different topics.
6. How much time do you spend writing your blog per week? How much time visiting other blogs? Share your  tips for staying on top of it all.
Hmmm…that would be interesting to track. I'm guessing, but I'd say I spend 20 hours a week writing and putting together my posts. I probably spend another 10 hours a week visiting other blogs. I stay on top of my blog writing by using on a schedule, which gives me the structure I need; I keep a blog calendar, which helps me plan ahead; and I have a notebook where I write down ideas, which helps me when I get stuck for something to write about. I use Google Reader to keep up with the blogs I read.
7. How do you measure the success of a post and of your blog in general (comments, shares, traffic)? Do you look strictly at the numbers, or do you have a way of assessing the quality of those interactions?
Honestly, I try not to think about this aspect of blogging. My goal is to offer up what I have and hope that it reaches people who find it interesting and helpful. I may be more interested in assessing traffic in the future, but for now, I don't worry about it.
8. If you could ask the pet blogging community for help with one issue you're having with your blog, what would it be?
Social media mystifies me. I'm weak in that regard, and I'm always interested in how people use it in creative ways.
9. What goals do you have for your blog in 2013?
My main goal is to keep on doing what I'm doing. The journey is everything to me. The only thing I wish I would improve on…I would love to get a little ahead on my posts so I could improve the quality.
I'm not able to get the linky list to appear, but I hope you will go to Go Pet Friendly and visit some of the other blogs who are participating in this challenge. It's fun to read the posts since everyone's answering the same questions.
How to be HAPPY!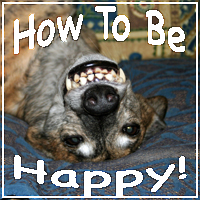 I'm also participating in How to be HAPPY! a brand new meme from Jay of The Depp Effect.
Here's what Jay says about it…
It's about finding the little things in life which bring a smile or a glow of warmth to our hearts and souls during our daily lives.  Why?  Because it's the way all these little things add up which truly determines if we are happy people, not the big stuff like a lottery win.
To enter, write a post about one thing which has made you happy in some small way recently – it could be birdsong, a favourite smell, a particularly good loaf of bread, a blue sky, anything!
Then, head on over to The Depp Effect and link your post.

Here's something that make me VERY happy…BOOKS!
I love everything about books…the stories, the authors, the smell of the pages, the dust jackets, the language, the illustrations, the places you buy them…everything. I have spent some of the happiest moments of my life in the company of books. Books are sacred to me. Through them, everything is available to us.
This Week's Inspiration Results
Something new I'm doing in 2013…Inspiration Mondays and Results Thursdays. Every Monday, I'll post a painting "inspiration" and then on Thursdays, I'll post how I'm interpreting that inspiration. I think this will be a fun exercise for me and keep me painting. It will also allow me to discover and share my "process."
This year, I'm once again participating in the Creative Every Day Challenge. Every month, Leah posts an optional monthly theme for inspirational purposes and to give some focus to anyone who needs it. This month's theme is…DARK…so that's what I used for my inspiration this week.
I started with the background.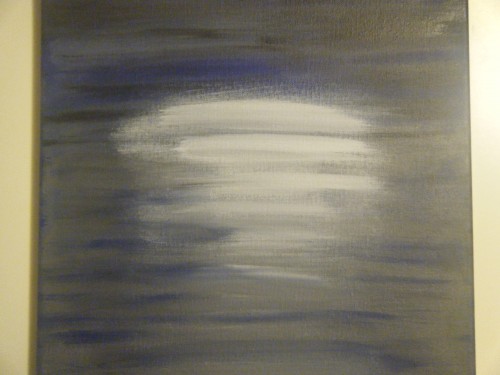 The first thing that came to my mind was a red dress…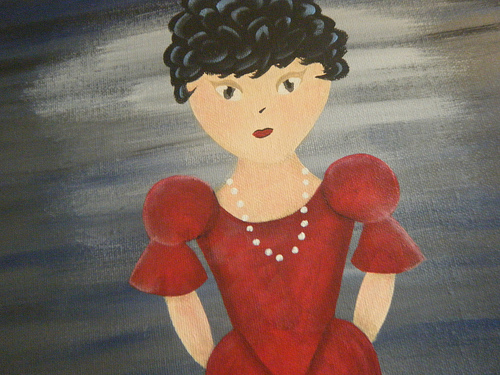 and this is the girl that came out of it.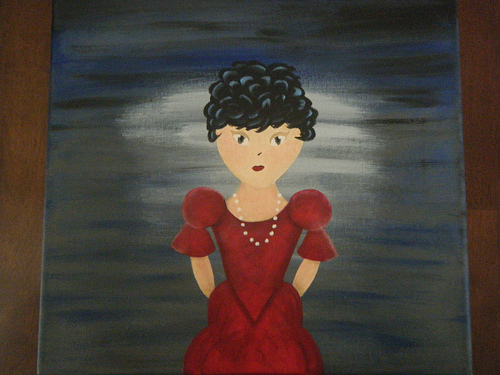 I think some of her came out of this unfinished painting.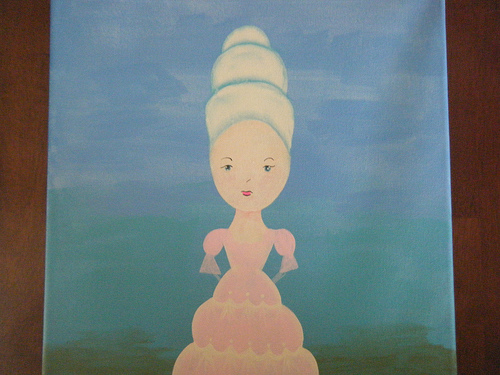 I still want to do a more work on both of them.
Whew! That's a lot of posting.