January 22
.
My daughter wrote this poem several years ago.  A tribute to a dog she loved and who loved her back…her name was AJ.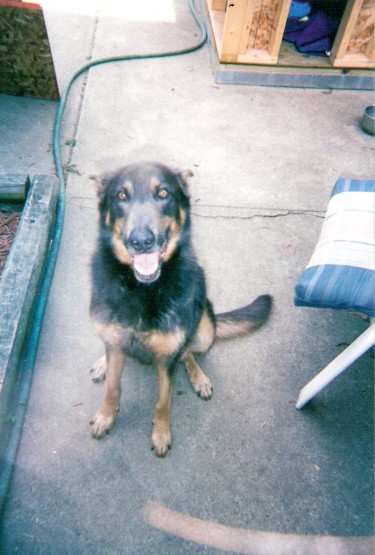 they said, i remember asking them why, that you
were too big, you'd be too happy to see me,
and you might, accidentally, hurt me.
i was so little, then. but i wanted to know you,
and you wanted to know me.
so we got to know each other
through the back screen door.
everyone knew you were my favorite
and i always got so happy when
they said i was yours. it probably took two
thousand milkbones, and i know it took
at least a year, but you made me so happy
at seven, when you'd listened, when you'd sit, and they
said i'd taught you more than any of them and
through the back screen door.
that was all we could do for years,
except sometimes when you got to come inside,
and your monster of a tail would knock over all of
aunt hope's crafts because you were so happy to be there.
but it worked out alright, and we were happy
and it was just good to be able to know
that one another was there
through the back screen door.
i know as i got older and i'd come by,
sometimes i wouldn't want to train so i wouldn't
say hello or much, but you'd know i was there,
and i'm sorry that those time i didn't live up to what you
thought of me, knew of me, but thank you, thank you
for still thinking, knowing, anyway.
even when i wasn't there on the other side
through the back screen door.
and then I was older and had gone out to see you,
but you were still so big and liked me so much.
and then they said you'd been bad. i was scared, until i saw
the puppies, you were thirteen weren't you? how you had them
we don't know, but i didn't really care.  i thought you'd done
very good, even if you weren't the most graceful mother.
and for a while, you were inside, we were inside, instead of
through the back screen door.
finally i was old enough that i could go out to see you,
ever since the puppies, and now you behaved a little better so
they'd come out and see you too, though you still only listened
to me, and you learned a few new tricks, and we went through
another few thousand milkbones, and anyone would swear you
were only just two, so full of energy, and i finally got to
hug you, really hug you, which i couldn't do, not then, not
through the back screen door.
i never had to go back through the back screen door again.
i don't think i have since.
not since they told me you'd been moved inside,
'cause you couldn't walk, and you were in pain, and
they were trying to take you to the vet…i remember hearing
someone say, maybe mom or maybe aunt hope,
but they said they were probably
only taking you once.
they told me you probably wouldn't be able to get up.
so i came in, and i smiled, and you looked at me
with your big, brown eyes, and i could see right into you,
and i saw so much joy, and i saw love,
and that monster tail started to wag,
and you pulled yourself up,
and heaved yourself forward, and they left me alone
so i could tell you exactly what you knew
but i wanted to make sure you'd heard.
Daily Inspiration
 
Childhood is measured out by sounds and smells and sights, before the dark hour of reason grows.
John Betjeman, Summoned by Bells