January 9
 
Nature or nurture?  Either way, there has to be a lot of creativity in me because my mom is AMAZING.  My earliest memories involve my mom creating and appreciating beautiful things.  Here's a sampling of her work.
 
This is one of my most precious possessions…my Raggedy Ann. Â  She even has a special heart, just for me.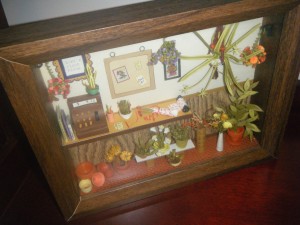 This is a masterpiece!  EVERYTHING in this Florist Shop shadowbox is handmade from paper and paper quilling strips
Felt Wizard of Oz Christmas ornaments.  Adorable.
Embroidered baby quilt block.
Cross-stitched Tooth Fairy pillow.