August 15
.
In August, my "Try This" posts are going to feature some things you can do with thrift store finds.
If you want to craft on a shoestring and enjoy working with a variety of fabrics, secondhand clothes are perfect.  Garage sales are a really great place to pick up clothes to cut into fabric because you can find things that are ridiculously inexpensive.  There is a fabulous tutorial on Emily's Little World for a flower made from a t-shirt.  This flower is similar to the folded petal flower I made on June 13.
Make a flower template.
Cut out 9 flowers and a felt circle.
To make the petals, fold a flower in half and in half again.  I applied a little Fabri-Tac glue in the fold.
Arrange 4 petals so their corners meet in the center of the felt circle.  Glue the petals to the felt circle.
 
Arrange a second layer of 4 petals by placing them in-between the petals of the first layer.
 
The remaining flower makes up the center.  Fold the flower in half and then in half again.  Roll the petal to make a cone.
 
Glue the rosebud cone in the center of the flower.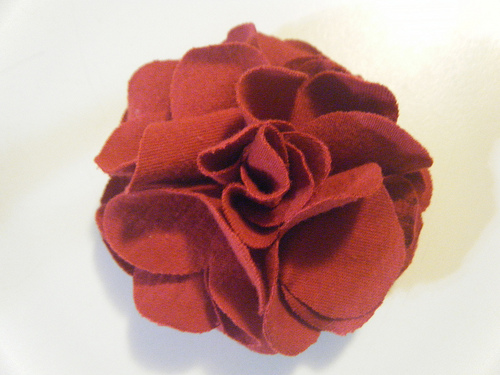 Fluff the flower and add dabs of glue where necessary to hold the petals in place.  Isn't that a pretty flower?
Daily Inspiration
 
 The entire universe is a great theater of mirrors.
Alice Bailey
About the photo (taken August 15) …I took this photo to go along with the quote I selected for today's Daily Inspiration.  It's been a lot of fun this year, pairing up quotations with pictures.