August 29
.
In August, my "Try This" posts all feature some things you can do with thrift store finds.
Have you ever stumbled upon a beautiful textile in a thrift or antique store and been tempted to purchase it, but then, what would you do with it?  Frame it!  Not only will you find lovely old doilies, handkerchiefs and linens in thrift stores, but also old (and new) frames.
These little doilies were made by my Grandma.  The idea for this project came to mind while I was thinking about what to do with some of my "unusual" family heirlooms.
Daily Inspiration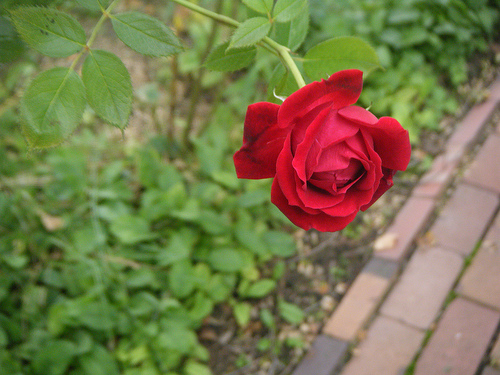 The most precious gift we can offer anyone is our attention.
Thich Nhat Hanh
About the photo (taken on August 26)…I took this photo in the garden of the Oliver Mansion where I volunteer as a docent.  All the roses were gone, except for this lovely little show-off.  It was leaning over to the path, sharing its beauty.