November 9
.
 
Uri Geller is a Greyhound owner.  His Greyhound's name is Barney.  Uri Geller was born in Israel and is most know for his trademark television performances of spoon bending and other psychic effects.
 
Uri owns a 1976 Cadillac adorned with thousands of pieces of bent tableware given to him by celebrities and pieces that have significance to him.  He lives in England and is a supporter of many charities, including Greyhound charities. 
Uri Geller's website has more pictures of him and Barney, along with his other pups…Chico the chihuahua and Joker the wire-haired terrier.
On November 7, Uri tweeted, "Our Barney is not well, he has been in and out of hospital please send him your prayers and healing."  Hope you feel better soon, Barney!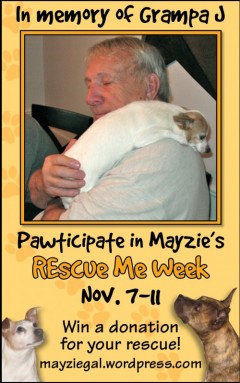 This week, in addition to the Art Every Day Month challenge, I'm participating in Mayzie's Rescue Me Week challenge.  Mayzie is the author of the most extraordinary, Mayzie's Dog Blog, and she is going to have a drawing on or about November 16 and award 5 rescue groups $100 each!  Mayzie is doing this in honor of her Grampa J who had a big heart for animals.  I'm playing for Allies for Greyhounds of West Michigan, the group who rescued Freedom, Casper and Nikki.  Today, I'm featuring Jim Lotus (aka Jimmy).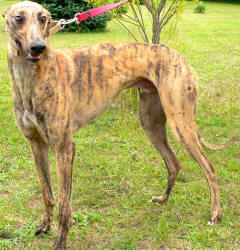 Jimmy is currently in a foster home, and here's what his foster mom has to say about him:
"Jimmy is a very energetic and lovable boy. He is one of the more active fosters that we've had but he's also one of the youngest. He loves to play with people and other dogs and does well with everyone he comes in contact with. He's adjusting to the home well and is learning quick. He's learning how to climb stairs and getting better with house manners each day." 
To find out more about Jimmy and other Greyhounds waiting for their forever homes, go the the Allies for Greyhounds of West Michigan website, click on "Adoptable" on the left-hand side and scroll down the list.  If a dog is in foster care, you can click on their picture and you'll see a link that says "Foster Profile."  The Foster Profile will give you even more information about that particular dog.  Found one you want to join your family?  Click on the "Apply" link on the left-hand side and fill out an application.
 Art Every Day Month – Day 9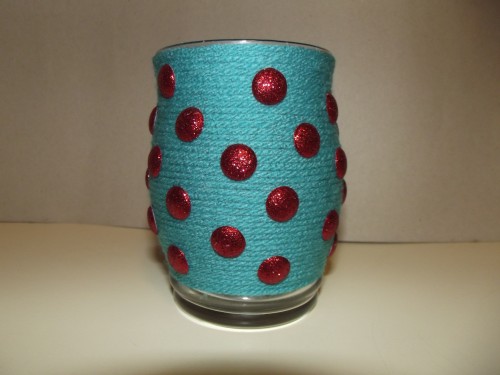 Blue Yarn Vase