January 13
.
Since I don't start Juliette Crane's How to Paint a Girl E-course until January 20, I'm kind of in limbo for my Friday posts.  Here are a few other things I'm working on:

I'm taking an e-course from Susannah Conway called Photo Meditations…so, I'm snapping several pictures every day and learning to "see" things better.
PLUS
I'm doing one art journal page every week.  I thought it would be nice to document some of my experiences this year and play with mixed media; but, my-oh-my was the first page hard.  Does anyone recognize this?
Me:  I'm going to do an art journal this year.  It will be nice to capture some of my thoughts and feelings, plus it will give me a chance to experiment with layouts and mixed media.  This will be fun, and I'll learn some new things.
My Inner Critic:  Sounds good.  You've never really been good at coming up with things on your own though.  You're good at following a pattern, I'll give you that, but you coming up with anything other than "ugly" on your own…I don't think so.
Me:  You're right.  I am better at following patterns; but I want to be more creative with my voice and perspective, and the only way to do that is to try new things and practice so I'll keep getting better.
My Inner Critic:  Why?  Who are you trying to impress?
Me:  I'm not trying to impress anyone.  I just feel the need to expand in this way.
My Inner Critic:  Why?  Dance Moms is on.  Go have some fun in front of the TV.  No need to stress yourself out by trying to come up with an art journal page.  You don't even have any ideas on how to start the first page.  You've been thinking about it for two days and you still haven't come up with an idea.  Just forget it.  If you had any talent, surely it wouldn't take you two days of thinking to come up with nothing.
Me:  I'm DVRing Dance Moms.  There's nothing wrong with thinking about something for awhile, but you're right, I'll never get anything done if I don't start playing around with it.  Plus, it doesn't have to be perfect.
My Inner Critic:  Perfect sure is nice though.  Why do something if it's just going to be a piece of junk.  You've never been good at things like this.  You don't have any natural talent in this area.  Nothing to be ashamed of, but you shouldn't even try.  I'm pretty sure you'll just blow it.
Me:Â  Sorry you're not with me on this, but I'm going to give it a whirl anyway.
My Inner Critic:  Okay, go ahead; but don't forget…I'm always here for you.
Anyone else have one of these guys in their head?
On a different note…I'm participating in The World We Found Readalong sponsored by S. Krishna's Books.  Here's the Readalong schedule:
Tuesday, January 10: Characters and Marriages in Chapters 1-9 (pp. 1-91)
Thursday, January 12: Friendships and Relationships in Chapters 1-9 (pp. 1-91)
Tuesday, January 17: Religion in Chapters 1-18 (pp. 1-192)
Thursday, January 19: Repression and Control in Chapters 1-18 (pp. 1-192)
Tuesday, January 24: Money and Power in The World We Found
Thursday, January 26: Other Topics and Discussion Wrap-Up for The World We Found
Here is a link to Swapna's review of The World We Found by Thrity Umrigar.
Daily Inspiration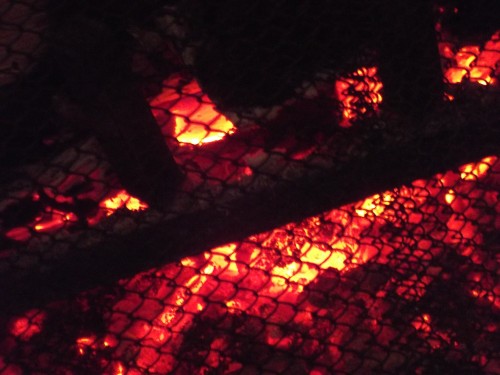 Creativity takes courage.
Henri Matisse