November 2
.
Casper and Nikki are blood donors.  I learned about canine blood donation when I took the houndies to be microchipped before we went to Dewey Beach.  Here's a little more information:
Blood Type
Dogs have more than a dozen different blood types.  Just like people, dogs can experience incompatibility reactions if transfused with the wrong blood type.  One particular blood type, Dog Erythrocyte Antigen 1.1 (DEA 1.1), causes the most significant adverse reactions in dogs that are not matched appropriately.  So, all potential donors are blood typed and only those lacking the DEA 1.1 type are accepted into the program.  Freedom's blood type is DEA 1.1 positive, so she is not qualified.
Temperament
The collection process takes approximately five minutes, during which the dog is lying on their side–a very submissive postion and one that many dogs will not tolerate.  If Freedom was qualified by blood type, this "temperament" qualification might have ruled her out.  She doesn't get into "submissive."
Body Weight
A dog must weigh between 50-150 pounds to safely donate a pint of blood.  They must also be in good body condition–not underweight or obese.
Age
Dogs must be at least one year old and no older than seven years old to be eligible for blood donation.  In general, dogs will be "retired" from the blood donor program when they turn eight years old.
General Health
Dogs must be in good health, current on their vaccinations and not taking any medications.  They must be regularly receiving flea and tick prevention as well as monthly heartworm preventative.
Want to read more?  Here's a link to an information paper from our vet, Morris Animal Hospital.
Art Every Day Month – Day 2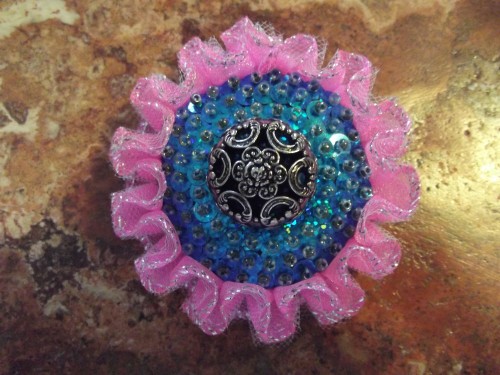 Sequined Flower