February 12
.
Freedom, Casper and Nikki here, taking over the keyboard today.
We were tagged by two of our friends…Bunny of Tales and Tails and Nola of Dachshund Nola …to answer some questions.
Since we were tagged twice, we'll answer the questions this week, and mom and Twinkie will answer the questions next Sunday.  Mom says that she enjoyed reading the other moms' answers to the questions, so that's why she's joining in.  She also thought it would be fun for our kittie sister, Twinkie, to answer the questions.  Thank goodness we were tagged twice or mom would have tried to cram it all into this post.
Let the questioning begin…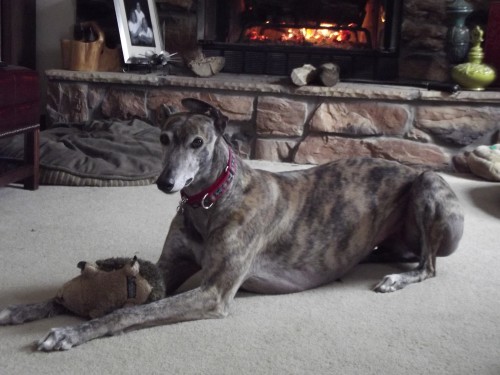 1. Â Describe yourself in seven words.
Freedom – Authoritative, bossy, pushy, pet-able, smart, impatient, leader.
Casper – Popular, fun, silly, sweet, spotted, adorable, ladies man.
Nikki – Shy, sweet, good, loving, patient, quiet, unassuming.
2. Â What keeps you up at night?
Freedom – Nothing.
Casper – We're greyhounds…I don't understand the question.
Nikki – Zzzzzzzz.
3. Â Who would you like to be?
Freedom – I'm top dog and my mommy's crazy for me.  I'll stick with being me.
Casper – Everybody loves me.  I'll stick with being me.
Nikki – I'm mommy's good girl and her fuzzy bear (I have alot of fur for a greyhound).  I'll stick with being me.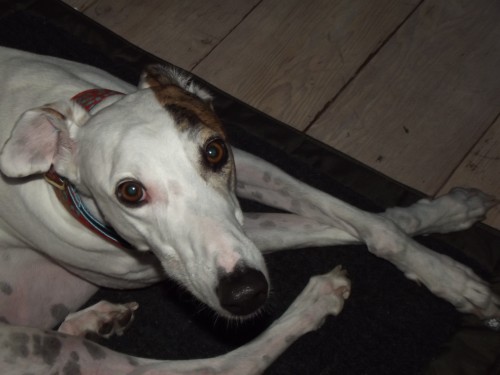 4. Â What are you wearing right now?
Our Premier Fido Finery utility collars that we bought from the GEM Store at Dewey Beach.  Red for Freedom, blue for Casper and pink for Nikki.
5. Â What scares me?
Freedom – Thunder and fireworks.
Casper – Anything tossed at me.
Nikki – The thought of moving to another home.
6. Â The best and worst of blogging?
Freedom – The best is it makes our mom really happy, and we have alot of new friends.  The worst is I never get any "air" time, it's always Casper.
Casper – The best is I'm my mom's blogging buddy.  I'm always with her when she's typing on the computer.  The worst is it makes me sad when we lose a friend.
Nikki – The best is when we get an unexpected treat.  Like once, we got free Greenies.  The worst is anytime I hear about a pet being hurt.  It makes me cry.
7. Â What was the last website you visited?
Freedom – Mayzie's Dog Blog.  I like to see how she's styling her brindle fur.
Casper – I'm not allowed on the internet unless I'm supervised.
Nikki – Mr. Chewy.  We get to pick out some things and then mom will do a review.  I'm going for the Greenies.
8. Â What is the one thing you would change about yourself?
Freedom – I'm Freedom.  What would I change?  Any change would be a step backward.
Casper – I would make myself a little less irresistable to the ladies…just to make it easier on them.
Nikki – I get corns on my pads sometimes.  I would change that.
9. Â Slankets, yes or no?
Freedom – No, that's crazy.
Casper – If they have one that looks like a smoking jacket, "yes."
Nikki – What is a slanket?  If it's like a Greenie, "yes."
10. Â Tell us something about the person who tagged you.
Bunny has been our friends for a long time and her mom writes my mom's favorite blog, Tales and Tails.  In fact, our mom started blogging because she liked Tales and Tails so much.  Nola is a new friend.  Here's what we have to say about Nola…she's so cute you can hardly stand to look her.  If you do look at her, you'll find yourself squealing or turning in to a mushy pile of goo because she's so pretty.
That concludes this installment of "We've Been Tagged."  Thank you, Bunny and Nola for tagging us.  We'll finish this up next Sunday.
 Daily Inspiration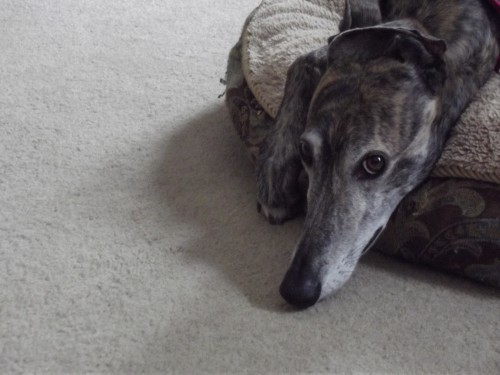 Dogs are not our whole life, but they make our lives whole.
 Robert Caras