June 28
.
I'm working on my "heirloom album."  This is a photo book I'm putting together with pictures of heirlooms and things that are special to me.  I'm also writing down what I know about these items.  I thought it would be fun to share this process.  Here's what I'm doing…I'll pick three items; the first week, I'll tell you what I know and the next week, I'll tell you what more I find out.  I'll do this "back and forth" during June and July.  Here are the heirlooms I picked last week.  The text in black is what I knew; the text in red is what I found out.
 
Lucy Pin 
This pin was given to me by my mother's sister, my Aunt Alma.  This was a special gift because although I never considered her stingy, my Aunt Alma was a "collector" and didn't part with her treasures easily.  It belonged to my maternal grandmother who received it from my grandfather.
My mom didn't even know that I had this pin.  Since my Aunt Alma passed away years ago, the only additional information I'll get on this item came from the "Antiques Q&A" in the Country Sampler May 2011 magazine.  Carnival vendors fashioned these souvenirs from carved shells and gold-filled wire.  The vendors could bend the wire into any name you wanted and you watched the person make your pin.  They were from the 1930s and 1940s.
 
Class Ring
This was my mom's high school class ring.  It has a "D" on it that I believe stands for Decherd, Tennessee; however, I know that my mom graduated from New Carlisle High School in Indiana.
This is my mom's high school class ring from Franklin County High School.  There is a little FCHS under the "D."  The "D" could stand for Decherd, Tennessee or their mascot, a Red Devil; however, as I thought, she graduated from New Carlisle High School in Indiana.  When she turned 18 years old, she decided she didn't want to stay at home any more.  Probably had something to do with not wanting to listen to her parents.  She had a sister in Indiana (my Aunt Alma) and a sister in California who told her she could come live with them.  She chose my Aunt Alma, hopped on a bus and moved to Indiana.  And she was surprised when I enlisted in the Army.  The apple doesn't fall very far from the tree.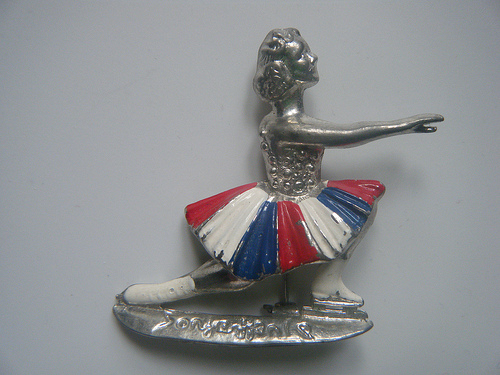 Sonja Henie Pin
I remember this being in my mother's jewelry box.  I loved it when my mom would let me get in her jewelry box.  I would take everything out and admire all the pretty things.  Sonja Henie was a famous ice skater.
My mom got this at a church rummage sale.  It was in a box of jewelry.
From Wikipedia:
Sonja Henie (April 8, 1912 – October 12, 1969) was a Norwegian figure skater and film star. She was a three-time Olympic Champion (1928, 1932, 1936).  Sonja Henie won more Olympic and World titles than any other ladies figure skater.  At the height of her acting career she was one of the highest paid stars in Hollywood.
Sonja Henie is credited with being the first figure skater to adopt the short skirt costume in figure skating, wear white boots and make use of dance choreography.  Her innovative skating techniques and glamorous demeanor transformed the sport permanently and confirmed its acceptance as a legitimate sport in the Winter Olympics.
Daily Inspiration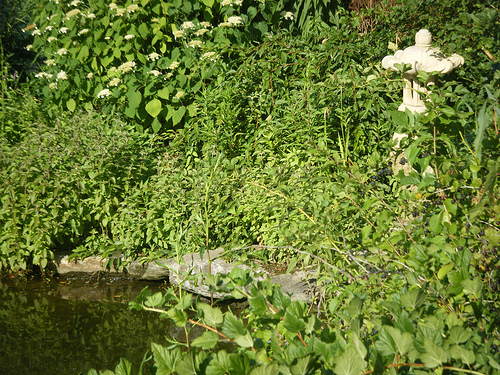 It is not down in any map; true places never are.
Herman Melville