August 19
.
 
This weekend, I visited my daughter at Purdue University.  Close to Purdue is Wolf Park in Battle Ground, Indiana.  We first visited Wolf Park in October 2011.  I thought we'd visit once, it would be great and that would be it, but we have become Wolf Park fans.
 
We went back on Saturday because Dharma, the pack's alpha female had 6 puppies on April 6, 2012 and this weekend, they joined the main pack.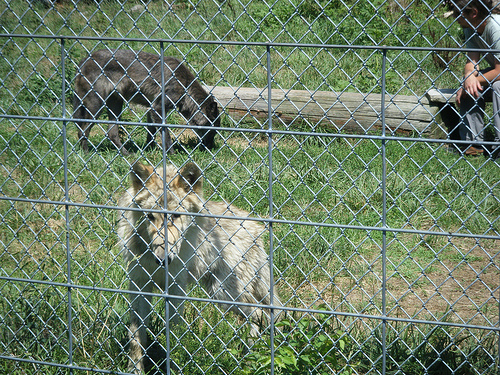 Puppies at Wolf Park are taken out of the den when they are around 10 days old to undergo the socialization process. In order to fully socialize the puppies to humans, the pups have contact with humans 24 hours a day for the first 5 months or so of their lives, for a total of over 2,000 contact hours. 
 
"Puppy Mothers" live onsite to help raise the puppies. They work in shifts to provide 24-hour a day human contact. The puppies also get to spend time socializing with wolves once they about 6 weeks old, so they learn how to be part of a pack as well.
 
You can learn more about Wolf Park by visiting their website or Facebook page.
It was a beautiful day…temperature in the 70s, blue sky, fluffy white clouds, people I love, good food and wolf pups.
Daily Inspiration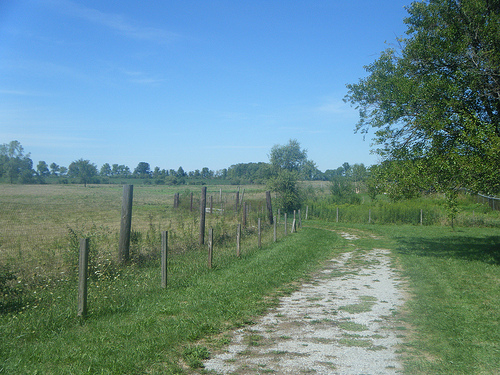 I thank you God for this most amazing day, for the leaping greenly spirits of trees, and for the blue dream of sky and for everything which is natural, which is infinite, which is yes.
 
e. e. cummings
 
About the photo (taken on August 18)…This picture was taken at Wolf Park, Battle Ground, Indiana.  It was a beautiful summer day.  Everything was vivid and full of life.  My heart was full of gratitude.  It was a perfect day.