October 23
.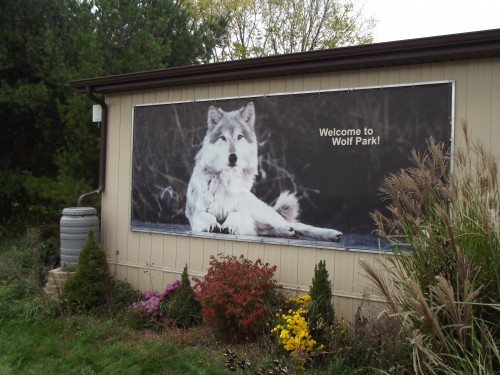 Last Sunday, I went down to visit my daughter at Purdue University, and we had a wonderful day visiting  Wolf Park in Battle Ground, Indiana.  Wolf Park "is dedicated to improving the lives of wolves in captivity and in the wild through behavioral research and education."  Wolf Park had its start in 1972 when Dr. Erich Klinghammer brought two wolves to his property for ethology research.  In 1976, Dr. Klinghammer's facility officially adopted the name "Wolf Park."
We started by listening to a presentation about wolves and Wolf Park.  Wolf Park covers approximately 75 acres and the main wolf enclosure is 7 acres.  Currently, there are 14 wolves, 9 bison, 2 coyotes and 2 foxes living in Wolf Park.  The wolves are socialized to humans and serve as ambassadors for their wild cousins, helping people to learn about and understand wolves so that we will take better care of their relatives in the wild.  The last wild wolf in Indiana was shot and killed in 1901.
Next, we moved to another field for the Wolf/Bison Demonstration.  There we were able to observe a couple of wolves interacting with the bison herd.  The bison herd is very healthy, so they have nothing to fear from the wolves during their short time together; but the demonstration was fascinating because we were able to see how the wolves sized up the herd and tested it, looking for weakness and opportunity. 
It must have been reassuring for some of the dog owners because the first thing one of the wolves did was roll in bison poop.  Called scent-rolling, it's not known exactly why canids do it, but rest assured, it's not just your dog…it's hardwired behavior.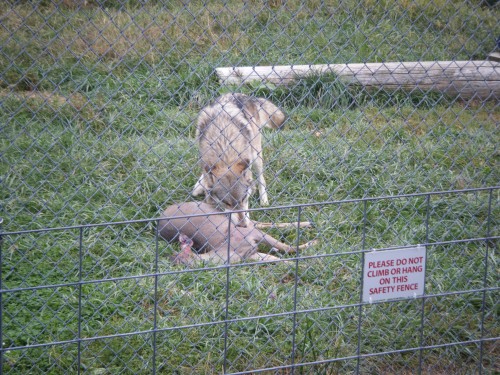 Finally, we moved on to the Wolf Feeding Demonstration, where we were able to see how a wolf dissects its meal.  The wolves in Wolf Park eat road-killed whitetail deer, donated freezer meat or stillborn calves from local farms.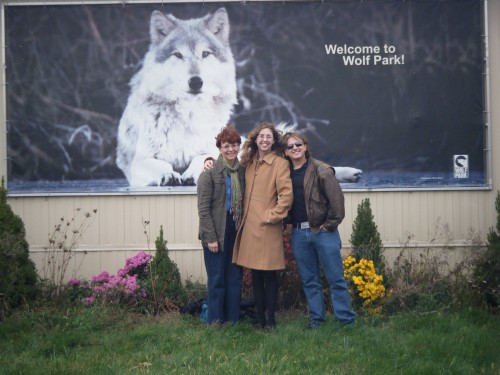 What a treasure, right here in Indiana!  Wolf Park offers programs for the casual visitor and for the hardcore wolf and wildlife enthusiast, such as educational and photography seminars.  Wolf Park also offers the Adopt A Wolf Program, where one of the benefits is the opportunity to meet your adopted wolf up close and in person.  If you're ever close to Battle Ground, Indiana, take time to visit Wolf Park.  It was fascinating.