March 10
.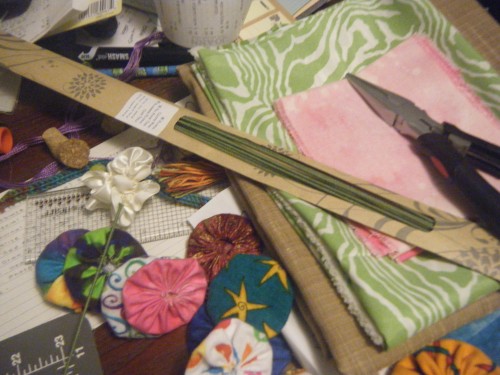 With Spring coming, I'm getting the urge to do a little cleaning and purging.  Years ago, when I was reading a "get organized" book, the author talked about different reasons people hold on to things.  It really helped me to understand why it was so hard for me to get rid of certain things.  Recently, I saw this list by Peter Walsh in the March issue of O Magazine.  So which "clutterer" do you identify with?
The Behind-Closed-Doors Clutterer
Your home may look pristine and well-organized, but when you open closets and cabinets, clutter abounds.
The Knowledge Clutterer
You have stockpiles of books, magazines and paper.
The Techie Clutterer
Drawers, cabinets and desks are weighed down with cords, chargers, remotes, USBs and all things techie.
The Sentimental Clutterer/Family Historian
You can't part with baby clothes, grade school report cards, pictures, tchotchkes and memorabilia.
The Bargain Shopper/Coupon Clutterer
You pride yourself on a good deal and bulk purchases.
Who am I?  I have to claim three…the behind-closed-doors clutterer, the knowledge clutter and the sentimental clutterer
You can check out the full article at Oprah.com.
Daily Inspiration
 
Truth hurts – not the searching after; the running from.
John Eyberg