February 29
 
 
Special Notice
– I've heard that beginning March 1, 2012, Google Friend Connect will no longer support blogs that are not published using the Blogger platform.  I use WordPress to publish
What Remains Now
.  I certainly appreciate how convenient it is to follow blogs using some means of notification.  I use RSS feeds on Google Reader to follow the blogs I love.  So, using the discontinuation of Google Friend Connect  as motivation, I've added a few new ways to follow
What Remains Now
.  On the right-hand sidebar, you'll notice several different options.  You can follow
What Remains Now
by subscribing to my
RSS feed
, on
Facebook
, on
Twitter
or on
Google+
.  I will add the option to sign-up for e-mail updates in the near future.  You can also follow me and all your favorite blogs through
Bloglovin'
.  Hopefully, these options will make it easy and convenient for you to read
What Remains Now
.  Please let me know if you have trouble with any of these connection tools.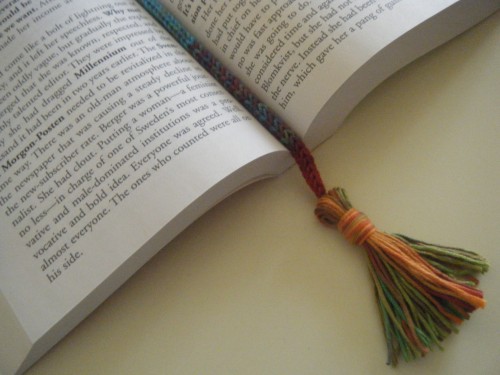 During the month of February, I've been playing around with spool knitting.  Because I didn't look at a calendar, I thought last Wednesday was the last Wednesday in February.  Imagine my surprise when I discovered 2012 is a Leap Year.  What else to make with my spool knitted tubes?  How about a bookmark.
 
 
Knit a tube the length you want for your bookmark.  You may want to measure a book you have on-hand.  I made a tassel for the end, but I think it would look adorable with pom-poms on the ends or a pretty charm.
 
 
Daily Inspiration
 
 
 
There is hope for the future because God has a sense of humor and we are funny to God.
 
Bill Cosby