April 30
.
Once upon a time, there were three mini-me's…Freedom, Nikki & Casper. The mini-me's led a simple life of fun and relaxation.
One beautiful day, the mini-me's were frolicking about when a package arrived.
It was a pretty purple package, and the mini-me's mommy said it was for them.
"I wonder what's in it?" said Nikki.
"Maybe treats or a new toy," said Casper.
"Let's quit talking and open it," said Freedom.
Inside was a pretty parcel, wrapped in tissue paper with a lovely yarn ribbon.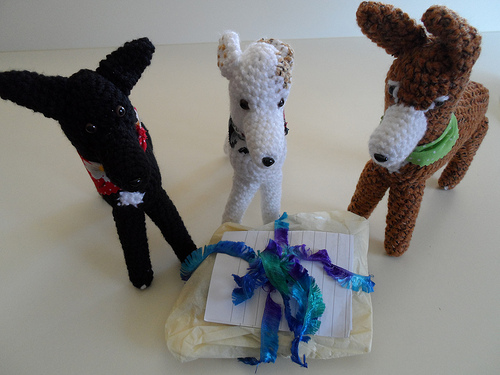 "I can't wait to see what it is," exclaimed Casper excitedly.
"Let stop talking and get to opening," Freedom said again.
"What is it, what is it," squealed Nikki with excitement.
"It's black and furry. A new stuffie, I'm sure!" chirped Casper.
"Wait just one minute!" exclaimed Freedom.
The mini-me's leapt back in surprise and horror!
Mini-Me Twinkie!!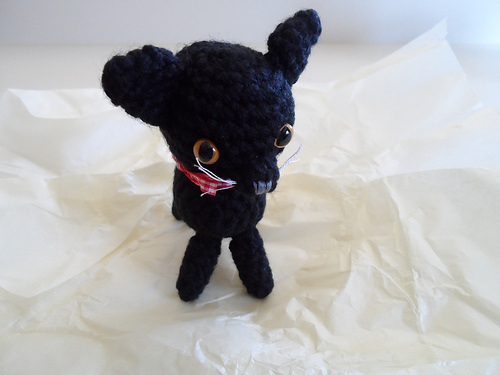 There's a new kid on the mini-me block.
To be continued…
Did you know we live with a kitty? We do! Her name is Twinkie. She's 17-years-old! She doesn't get much blog time, but if you'd like to read about her, check out this post, this post and this post.
You can read the original mini-me post here. The mini-me's are custom handmade by Lynne of  Dip-Dip and the Bridge. She also has an Etsy shop called Handmade Gifts By L with even more of her lovely crocheted creations. Want a mini-me of your own? Contact Lynne at chi-chigirls86@hotmail.com and she'll give you the details.